PDF, Articles, Books on Achiote, Bixa orellana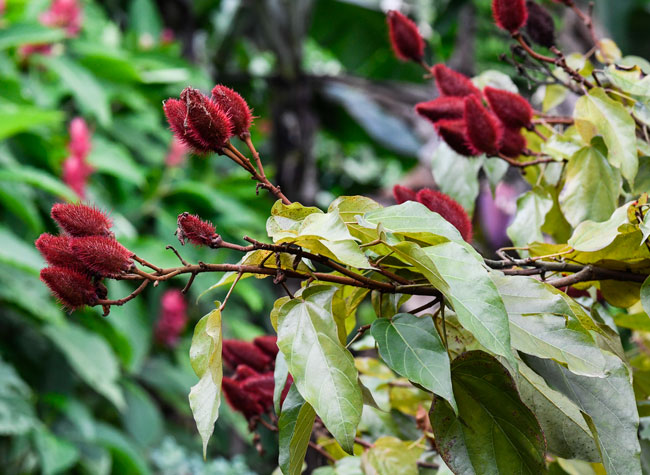 Photo by Dr Nicholas Hellmuth with a Nikon D5, lens Canon EF 100MM F/2.8 MACRO USM, f/10, 1/400, ISO 3200
AYALA, Carmen, CASTILLO, Ericson, ALFARO, Ketterine, EVA, Aspiros and Luis AYALA
2016
Obtención de un colorante natural de las semillas de Bixa orellana L. (Bixaceae) como alternativa para uso cosmético. Arnaldoa: revista del Herbario HAO. Vol. 23, No. 1. Pages 149-158.

Available online:
www.biodiversitylibrary.org/part/249963#/summary
CAMACARO, José, GÓMEZ, José, JIMÉNEZ, Milagros, VEGA, Cristóbal and Lisbeth MANGANIELLO
2018
A liposoluble colorant from Annatto seeds (Bica Orellana L.) as an input for food industry. Revista de Ingeniería UC, Vol. 25, No. 2. Pages 291-306.

Available online:
http://servicio.bc.uc.edu.ve/ingenieria/revista/v25n2/art16.pdf
CASO, Laura and Mario Aliphat
2017
Relaciones de Verapaz y las Tierras Bajas Mayas Centrales en el siglo XVII. En XX Simposio de Investigaciones Arqueológicas en Guatemala, 2006 (editado por J.P. Laporte, B. Arroyo y H. Mejía), pp. 48-58. Museo Nacional de Arqueología y Etnología, Guatemala (versión digital).

Available online:
www.asociaciontikal.com/simposio-20-ano-2006/04-caso-06-www-doc/
DE ARAÚJO, Daniela, DE ARAUJO, Marina, ACCIOLY, Túlio, NERVO, Fernanda, DE OLIVEIRA, Márcia, DE OLIVEIRA, Camilo, FILGUEIRAS, Petronio, FORMIGA, Margareth and José BARBOSA
2014
Traditional uses, chemical constituents, and biological activities of Bixa Orellana L.: a review. Hidawi Publishing Corporation. The Scientific World Journal. 11 pages.
MAZZANI, E., MARÍN, C. and V. SEGOVIA
2000
Estudio de la variabilidad existente en la colección de onoto (Bixa Orellana L.) del CENIAP; FONAIAP; Venezuela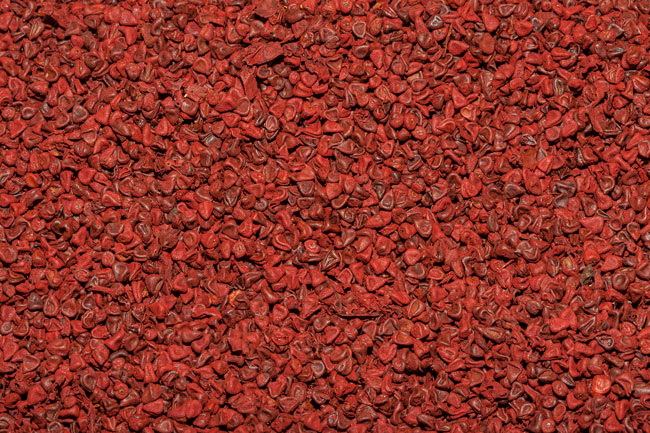 Photo by Sofía Monzón with a Canon EOS, lens Canon EF 100MM F/2.8 MACRO USM, f/18, 1/250, ISO 100
SALGUERO, Boris
2010
Trabajo de graduación realizado en el Municipio de Fray Bartolomé de las Casas, Alta Verapaz con énfasis en el estudio de mercado para el cultivo de Achiote (Bixa Orellana L.) producido en la comunidad Resurrección Balan. Universidad San Carlos de Guatemala, Facultad de Agronomía.

Downloadable online:
www.repositorio.usac.edu.gt/7031/
VÁSQUEZ, María Luisa, BATISTA, Antonio Fernando and Dolores YUSÁ
2010
Annatto in America and Europe. Tradition Treatises and Elaboration of an Ancient Colour. Arche, No. 4-5
WEISS-Krejci, Estella
2006
The Maya corpse. Body processing from Preclassic to Postclassic times in the Maya highlands and lowlands'. In Jaws of the Underworld: Life, Death, and Rebirth Among the Ancient Maya. 7th European Maya Conference, The British Museum, London, November 2002. Acta Mesoamericana, Vol. 16, pp. 71-86. Pierre R. Colas, Geneviève LeFort and Bodil Liljefors Persson (eds.). Verlag Anton Saurwein, Markt Schwaben

Full-text available:
https://www.researchgate.net/publication/273059464_The_Maya_corpse_
Body_processing_from_Preclassic_to_Postclassic_times_in_the_
Maya_highlands_and_lowlands
ZARZA, Addy, SAURI, Enrique, RADDATZ, Denise, CUEVAS, Luis, PINZÓN, Luis, RIVERA, Fernando and Jose MENDOZA
2017
Pharmacological, phytochemical and morphological study of three mayan accessions of Bixa Orellana L. leaves. Emirates Journal of Food and Agriculture. Vol. 29, No. 3. Pages 163-169.

Available online:
https://www.ejfa.me/index.php/journal/article/view/578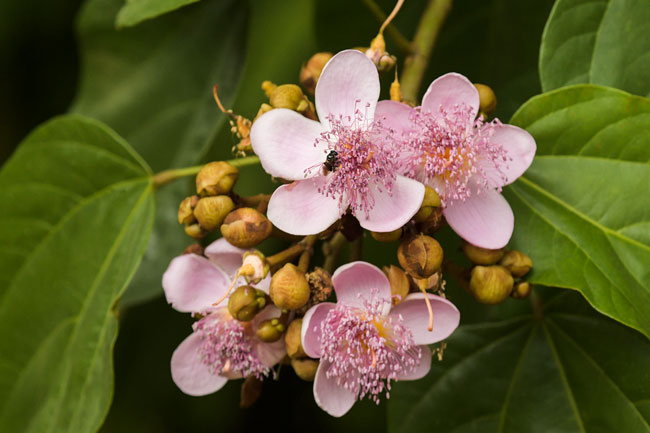 Photo by Dr Nicholas Hellmuth with a Nikon D5, lens Nikon AF-Micro-NIKKOR 200mm f/4D IF-ED Macro, f/11, 1/500, ISO 6400
Suggested webpages with photos and information on Achiote, Bixa orellana
www.cich.org/Publicaciones/09/BixaOrellana.pdf
Information.
www.worldagroforestry.org/treedb/AFTPDFS/Bixa_orellana.PDF
Information.
www.gob.mx/cms/uploads/attachment/file/97007/Achiote_monografias.pdf
Information and photos.
https://catalogofloravalleaburra.eia.edu.co/species/15
Information and photos.
www.theplantlist.org/tpl1.1/record/kew-22274?ref=tpl1
Synonyms.
www.gbif.org/species/2874863
Map location and photos.
To learn more about Bixa orellana, Achiote, click here