Grias cauliflora is a cauliflory tree, that means that the flowers and fruits grow from the main stems or woody trunks, not from new growth and shoots. This tree can grow about 4-10 meters. The leaves simple, alternate, grouped at the end of the branches, 35–110 x 7–28 cm oblanceolate, apex acuminate, base narrowly cuneate or auriculate. The flowers are white to creamy-white, 2.5–5 cm in diameter and the fruits are berry, 3.8–9 cm x 2.2–4 cm, obovate or pyriform. They are edible.
Taxonomy:
| | |
| --- | --- |
| Order | Ericales |
| Family | Lecythidaceae |
| Genus | Grias |
| Species | Grias cauliflora |
| Common name | Jahuillo (local name in Livingston) |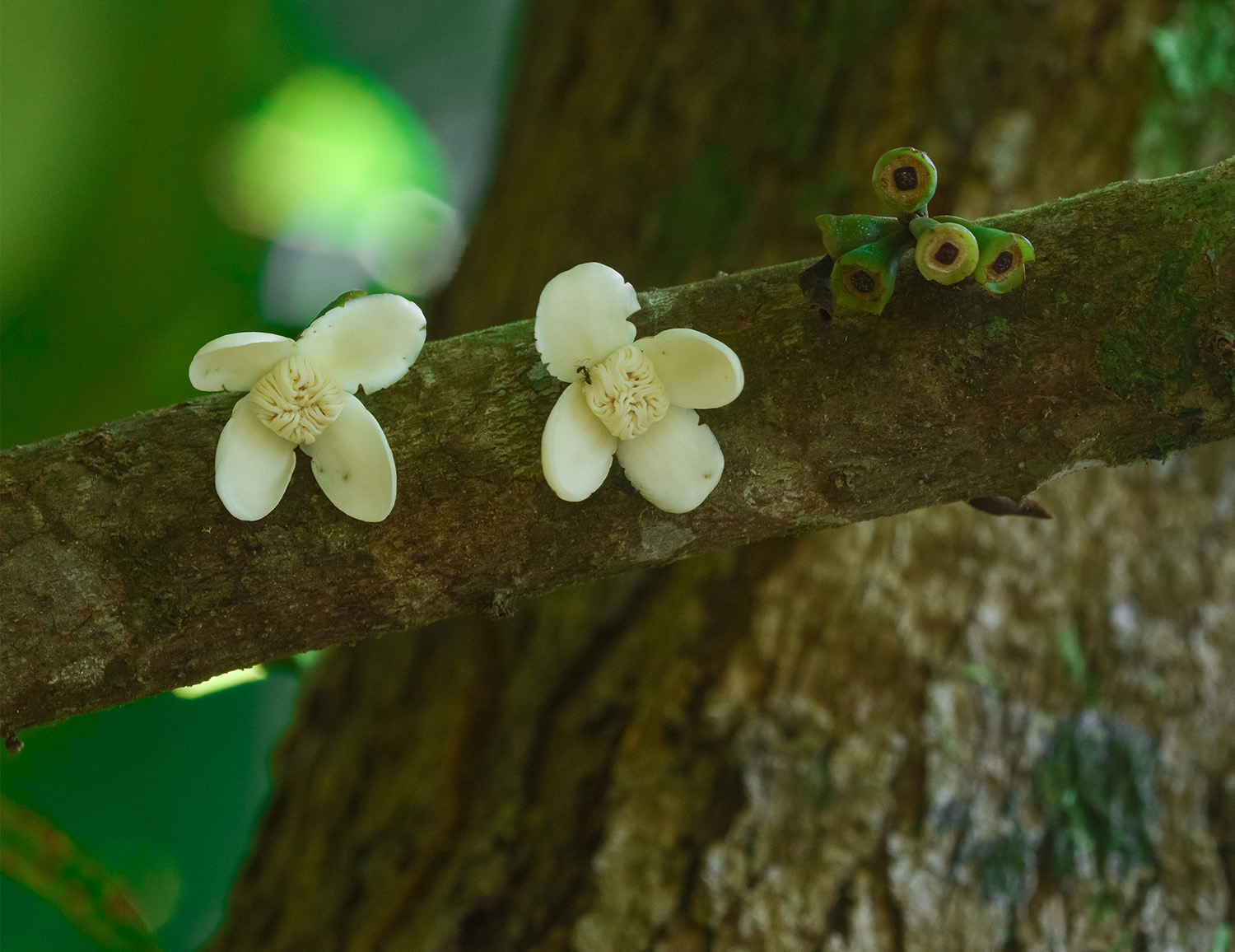 Grias cauliflora behind green leaf white flowers Livingston CESIDE, Mar 23, 2021. Photo by Dr Nicholas Hellmuth with a Nikon D810 camera, Nikon 200mm f/4 AF-D Macro lens, 1/40 sec, f/14, ISO 1250. Flash fired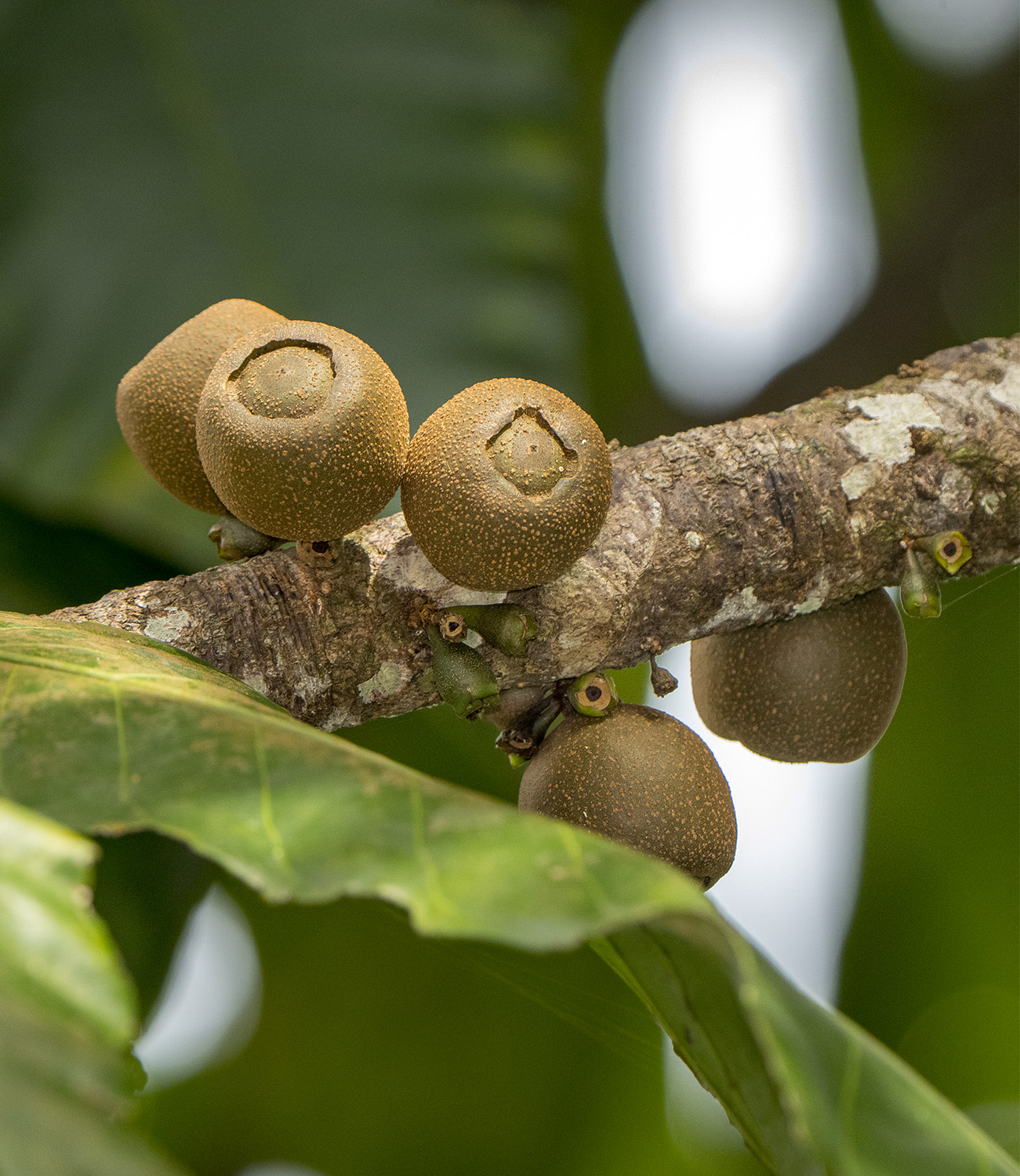 Grias cauliflora brown fruit on trunk Rio Ceek de Leon Jun 19, 2021.Photo by Dr Nicholas Hellmuth with a Nikon D810 camera, Nikon 200mm f/4 AF-D Macro lens, 1/40 sec, f/14, ISO 1250. Flash fired
References Cited and Suggested Reading on Grias cauliflora and Grias species of Mesoamerica
AGUIRRE de Riojas, Regina and Elfriede de PÖLL
2007
Trees in the Life of the Maya World. BRIT PRESS, Botanical Research Institute of Texas. 206 pages.

Regina de Riojas has dedicated much of her life to trees of the Maya and trees of Guatemala. Elfriede de Pöll has likewise dedicated her life, to biology of Guatemala, at Universidad del Valle de Guatemala.
ARELLANO Rodríguez, J. Alberto, FLORES Guido, José Salvador, TUN Garrido, Juan and M. M. CRUZ-Bojórquez
2003
Nomenclatura, forma de vida, uso, manejo y distribución de las especies vegetales de la Península de Yucatán. Etnoflora Yucatanense Fascículo 20. Universidad Autónoma de Yucatán, UADY. 815 pages.
ATRAN, Scott, LOIS, Mimena and Edilberto UCAN Ek'
2004
Plants of the Peten Itza' Maya. Museum of Anthropology, Memoirs, Number 38, University of Michigan. 248 pages.

Very helpful and nice collaboration with local Itza' Maya people. But would help in the future to have a single index that has all Latin, Spanish, and English plant names so that you can find plants more easily. Suzanne Cook's Lacandon ethnobotany index is significantly easier to use.

Not available as a download.
BALICK, Michael J., NEE, Michael H. and Daniel E. ATHA
2000
Checklist of the Vascular Plants of Belize: With Common Names and Uses. Memoirs of the New York Botanical Garden Vol. 85. 246 pages.
BALICK, Michael J. and Rosita ARVIGO
2015
Messages from the Gods: A Guide to the Useful Plants of Belize. The New York Botanical Garden, Oxford University Press.
BUENO, Joaquín. ALVAREZ, Fernando and Silvia SANTIAGO (editors)
2005
Biodiversidad del Estado de Tabasco. CONABIO, UNAM, Mexico. 370 pages.
DIX, Margaret A. and M. W. DIX
1992
Recursos biológicos de Yaxhá-Nakúm-Yaloch. 54pp.

This is one of the sources for the tree list portion of CONAP Plan Maestro reports on Yaxha in the past decade. Unfortunately the Dix and Dix list is rather limited. The 1999 Schulze and Whitacre list for Tikal is more complete (but all these lists need more field work to improve).

We have asked several times for a copy of the original Dix and Dix report, but have never received one.
GOODWIN, Z. A., LÓPEZ, G. N., STUART, N., BRIDGEWATER, G. M., HANSTON, E. M., CAMERON, I. D., MICHELAKIS, D., RATTER, J. A., FURLEY, P. A., KAY, E., WHITEFOORD, C., SOLOMON, J. LLOYD, A. J. and D. J. HARRIS
2013
A checklist of the vascular plants of the lowland savannas of Belize, Central America. Phytotaxa 101 (1): 1–119.

Available Online:
www.researchgate.net/publication/257190768_A_checklist_of_the_vascular_plants_of_the_lowland_savannas_of_Belize_Central_America
INE
2013
Nomination of Ancient Maya City and Protected Tropical Forests of Calakmul, Campeche. 55 pages.

There is no author on the fragment that is the most available as a download, so we put INE.
LUNDELL, Cyrus L.
1937
The Vegetation of Peten. Carnegie Institution of Washington, Publ. 478. Washington. 244 pages.
LUNDELL, Cyrus L.
1938
Plants Probably Utilized by the Old Empire Maya of Peten and Adjacent Lowlands. Papers of the Michigan Academy of Sciences, Arts and Letters 24, Part I:37-59.
OCHOA-Gaona, Susana
1996
La vegetación de la Reserva El Ocote a lo largo del Cañón del Río La Venta. ECOSUR, CONABIO.
OCHOA-Gaona, Susana, RUÍZ González, Hugo, ÁLVAREZ Montejo, Demetrio, CHAN Coba, Gabriel and Bernardus H. J. DE JONG
2018
Árboles de Calakmul. ECCOSUR, Chiapas. 245 pages.

It is amazing that there is no such book for Parque Nacional Tikal, nor El Mirador. Even though it includes only half the estimated number of "trees," it has more tree species than Schulze and Whitacre for Tikal (they estimated about 200 but list only about 156 (their lists of species and list by plant family are not identical).

The entire book is a totally free download, however you can't copy and paste so is difficult to add to your discussion.

In the future would be helpful to have a photographer with high-resolution equipment available and a book producer that can put these photos at a resolution that allows you to see the details. The photos of the overall tree have almost no visible detail. Nonetheless, the authors all have botanical experience and this book is a good start. A second edition would be helpful. Also would help to have more than one page per photo.

Available Online:
http://aleph.ecosur.mx:8991/exlibris/aleph/a22_1/apache_media/74R92GMRSJSEPFDEE5NJY4SJI2I8AK.pdf
PARKER, Tracey
2015
Trees of Guatemala. The Tree Press. 1033 pages.

Even though copy-and-paste, it helps to have 99% of the trees of Guatemala in one single volume. Although more than half the book is copy-and-paste from Flora of Guatemala, since the Parker book is year 2008, it has additional information for some trees.
PEÑA-Chocarro, María and Sandra KNAPP
2011
Árboles del mundo maya. Natural History Museum Publications. 263 pages.

Helpful book; contributing authors are experienced botanists. They cover 220 species of trees, more than virtually all other "Books on Trees of the Maya." Even include tasiste (which is missing from all other books on "Trees of the Maya" except for the recent book on Árboles de Calakmul.

But if all this effort is going into a book, would help if there were more photos, larger photos, and not so much blank space at the bottom of each page. Plus would help if the text could include personal first hand experience with these trees out in the Mundo Maya. But even as is, it is a helpful book.

If you are doing field work you need this, plus Árboles de Calakmul, plus Árboles tropicales de México. Parker's book you need back in your office, since out in the field it's not much help due to lack of photographs. Back in your office the books by Regina Aguirre de Riojas are also helpful.
PENNINGTON, Terence D. and José SARUKHAN
2005
Árboles tropicales de México. Manual para la identificación de las principals especies. 3rd edition. UNAM, Fondo de Cultura Economica. 523 pages.

This book is a serious botanical monograph. 1968 was the first edition (I still have this), 1998 was second edition. The 3rd edition is a "must have" book. Each tree has an excellent line drawing of leaves and often flowers and fruits (though to understand flowers you need them in photographs, in full color). Each tree has a map showing where found in Mexico (such maps are lacking in most books on Trees of Guatemala or plants of Belize). But trying to fit a description of a tree on one single page means that a lot of potential information on flowering time is not present. And, this is definitely not a book on ethnobotany: for that you need Suzanne Cook.
RUEDA, Ricardo, JARQUIN, Orlando, MUNGUIA, Blanca, REYES, Aquiles and Indiana CORONADO
2013
Inventario preliminar de plantas asociadas a los pantanos dominados por palmas del Caribe de Costa Rica y Nicaragua. Rev. Biol. Trop. Vol. 61 (Suppl. 1): 101-120.

Available Online:
https://revistas.ucr.ac.cr/index.php/rbt/article/view/23182/23502
SCOTT, A., Mori and Ghillean T. PRANCE
1987
A Guide to Collecting Lecythidaceae. Annals of the Missouri Botanical Garden Vol. 74, No. 2, pp. 321-330

Available Online:
www.jstor.org/stable/2399402?seq=1
STANDLEY, Paul C. and Samuel J. RECORD
1936
The Forests and Flora of British Honduras. Field Museum of Natural History. Publication 350, Botanical Series Volume XII. 432 pages plus photographs.
STANDLEY, Paul C.
1923
Trees and Shrubs of Mexico. Contributions from the United States National Herbarium, Volume 23, Part 3. Smithsonian Institution.

In this one monograph the species are not listed in alphabetical order, so it's a mental adventure finding the species you are looking for.

All monographs by Standley and co-authors can be easily found and downloaded. I would recommend finding the .pdf versions as they are easier to store, easier to copy, and easier to share with students and colleagues.
STANDLEY, Paul C. and Louis O. WILLIAMS
1962
Flora of Guatemala. Fieldiana: Botany, Vol. 24, Part VII, Number 2. Chicago Natural History Museum, Chicago Natural History Museum.
VILLAR Anléu, Luis
2005
Guatemala, Arboles Magicos Y Notables. Empresa Eléctrica de Guatemala, Editorial Artemis-Edinter. 148 pages.

I always enjoy seeing an author who is really enthusiastic about what he is writing about. I have had this book in my office reference library for 15 years (since it first came out).
Suggested webpages with photos and information on Grias cauliflora
www.naturalista.mx/taxa/495664-Grias-cauliflora
Photos and distribution map
https://sura.ots.ac.cr/local/florula4/find_sp.php?key_species_code=LS001253&key_family=Lecythidaceae&key_genus=Grias&specie_name=cauliflora#
Information
http://tropical.theferns.info/viewtropical.php?id=Grias+cauliflora
Information and nice photos