Tree dahlia, common in Alta Verapaz and elsewhere in Guatemala
During a trip to the Highland Guatemalan town of Chilascó, Baja Verapaz, Guatemala, I saw bluish-purplish dahlia bushes alongside the road as well as in the house gardens of most of the houses in the village. The turnoff (to the east) is near Km. 142 on the main road towards Coban, Alta Verapaz. In about 12 km (on an unpaved but good road) you are in the friendly town of Chilascó.
Chilascó is a small town in the Sierra de las Minas area of eastern Baja Verapaz. Most of the brocolli that is grown in Guatemala is raised on the hillsides on both sides of the last several kilometers as you drive into Chilascó.
Dahlia imperialis prefers full sun. I have some plants growing in deep shade in my garden (at 1500 meters elevation in Guatemala), and yes, they do flower, but nowhere near with the exhuberience that they would in full sun.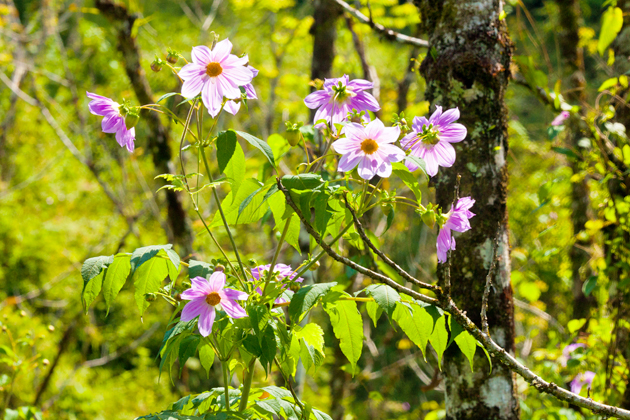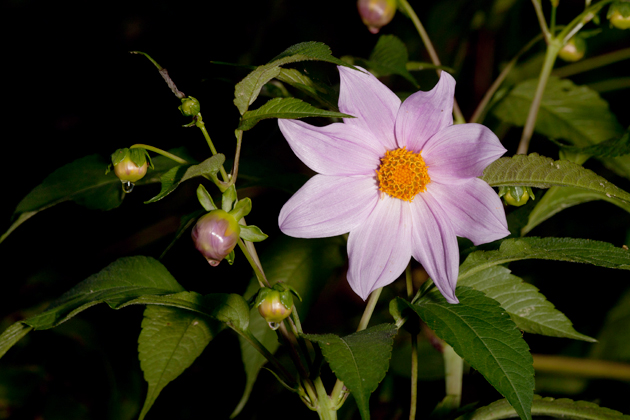 (a few of the) Dahlias in Guatemala (or Mexico)
| Species | Color or other noticeable characteristic | Location where you can find this species wild in Guatemala or Mexico |
| --- | --- | --- |
| Dahlia Australis | Pretty much same nice lavender as other dahlias. | Highland Chiapas, Mexico |
| Dahlia Coccinea, red dahlia, scarlet flowered dahlia | Orangish red. | Quetzaltenango |
| Dahlia Excelsa | Flower (to a layman) looks pretty similar to that of Dahlia imperialis. | |
| Dahlia Imperialis, tree dahlia | Lavender is the color I think of when I see these in Guatemala. | Wild in Alta Verapaz, but also in Guatemala City (in gardens). |
| Dahlia Maxoni | Red. | Highlands around Tactic. |
| Dahlia Pinnata | Beautiful deep lavender | More in Central Mexico than in Maya areas. |
| Dahlia Purpusii | Attractive deep lavender. | Volcan Santa Maria, Guatemala. |
(Parker 2008)
Nash and Williams say there are 27 reported species in Mexico and Central America (Nash and Williams 1976 :235).
Ritual significance of dahlia flowers
It remains to be seen whether dahlia flowers are found in Classic Maya art. The fact that dahlia flowers are used to decorate images of saints in Tactic (U.S. Department of Agriculture 1922:12) is a suggestion that the flowers may have a sacred background.
Petals and tubers of dahlia are edible
Ethnographers state clearely that young portions of the leaves are eaten (Ruiz 2006: 36). Others state that also the tubers are edible (hmmm, seems like we need to add a few more root crops to the popular-four root crops featured by Bronson (1966)).
One web site mentions that dahlia bulbs are edible:www.motherearthnews.com/Real-Food/Edible-Dahlia-Bulbs-Recipes.aspx However, it would help to have documentation from a Maya scholar that dahlia bulbs are consumed by the Maya.
As with any plants, we do not recommend eating them, or using them as medicine, unless you fully realize any side effects.
Medicinal use of dahlia
Dahlia imperialis is listed by Laura Nader (1996: 57) as being medicinal in Highland Maya Mexico (she gives no reference...).
Flowers of dahlia, when do they bloom
Poponoe says the tree dahlia blooms December or January. He suggests Tactic as a nice place to find the flowers (as a flowering hedge). We saw the tree dahlia blooming profusely around Coban, Alta Verapaz and also in Guatemala City, the week of Christmas 2011. But they were blooming in the summer as well: this is a polite way of saying that botanists should rewrite this part of their botanical description.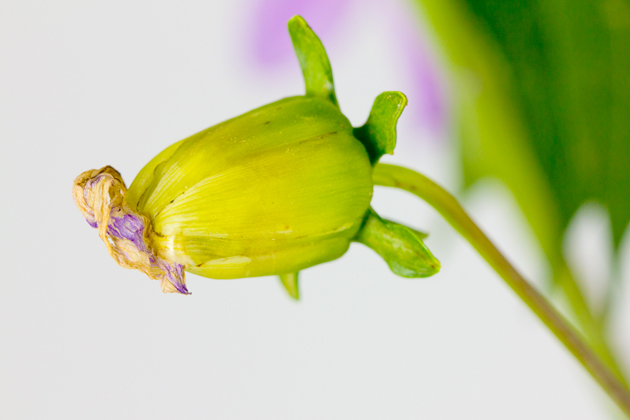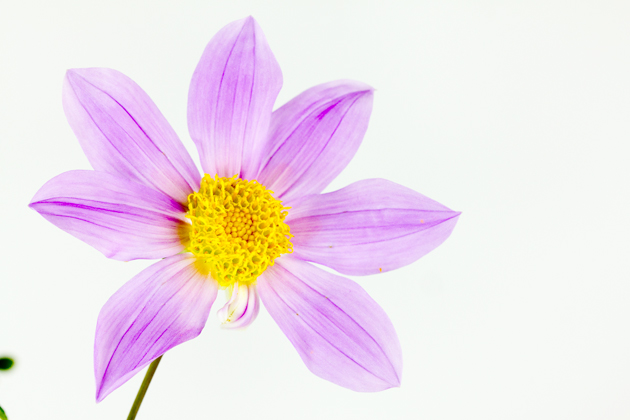 Thesis potential for dahlia flowers and tubers
Yes, definitely thesis potential here: undergraduate and MA levels. For PhD you would want to go for wider range of flowers, perhaps "edible flowers of Maya culture: past and present" which would be a major task, since so many flowers are used as flavoring for cacao. Dahlia is one of the edible flowers which is not (to my knowledge) used to flavor cacao nor other beverages.
I would suggest one thesis on "Flowers in Maya Culture other than those used to flavor cacao" since once you get into cacao you bog down into more than 15 plants, including chile. You could do an entire dissertation on chile alone; and definitely an entire PhD on flavoring for cacao drink.
One of several advantages of focusing on dahlia as a thesis topic is that it gets you into root crops (where you can go beyond Bennet Bronson 1966). Be aware however that a thesis of dissertation on dahlia gets you into medicinal plants. There are so many hundreds of medicinal plants (and so many books and dissertations already on this topic) that I tend to shy away from the medicinal aspects.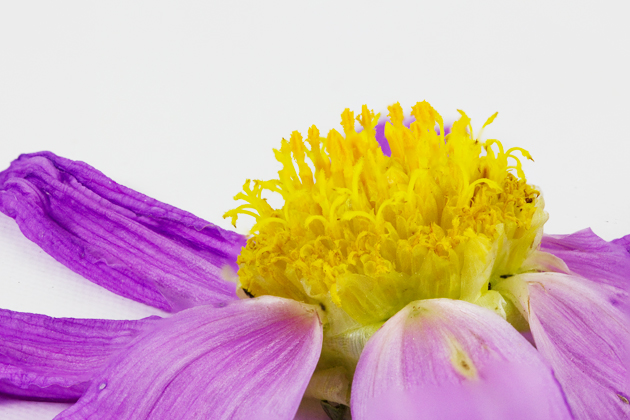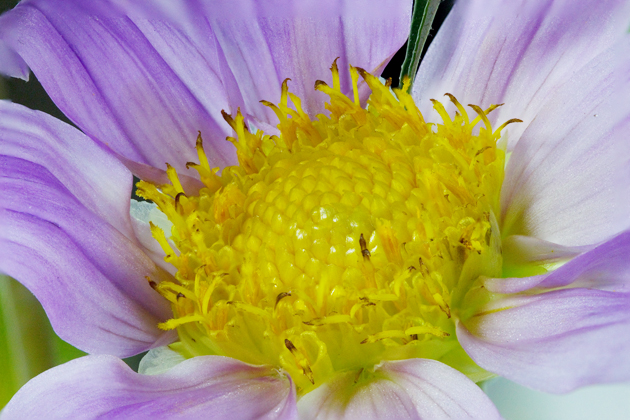 Photography of Dahlia flowers
You get one style of photography in the full sun. I suggest trying to get backlit views and then a tad of fill flash on the front. Full flash on the front will either burn out the image, or oversaturate the color, or otherwise eliminate fine details.
Since these tree dahlias are several meters high, and as their stems are a "flower stalk" not a "tree trunk," they blow in the wind. So you need a plant clamp, or a windless day. Or, bring the flowers into your studio (helps if your studio is half a block from where the flowers grow in a vacant lot). In the studio you will get a different visual effect than outside in the sun. No one location (outside or in studio) is significantly better than the other. Just that inside you have more control on light and shadows.
We use soft lights (fluorescent, from Westcott). If you use tungsten lighting (which is harsh) the effect is very different. Be sure to use gray balance.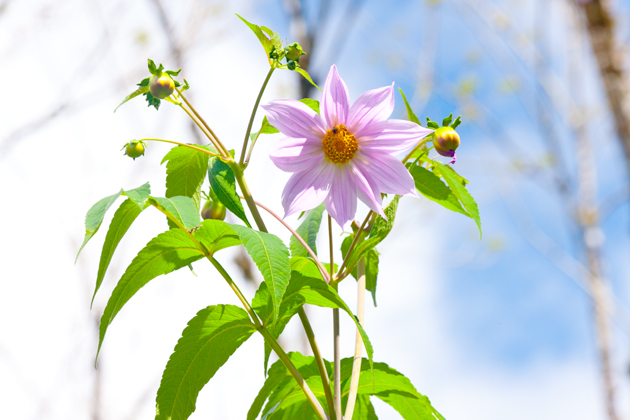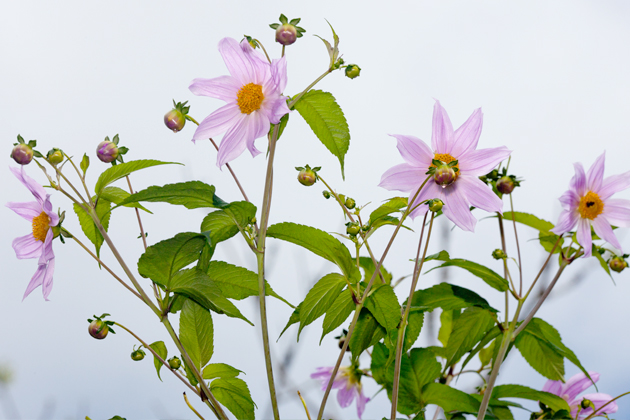 PDF, Articles, Books on Dahlia imperialis Roezl.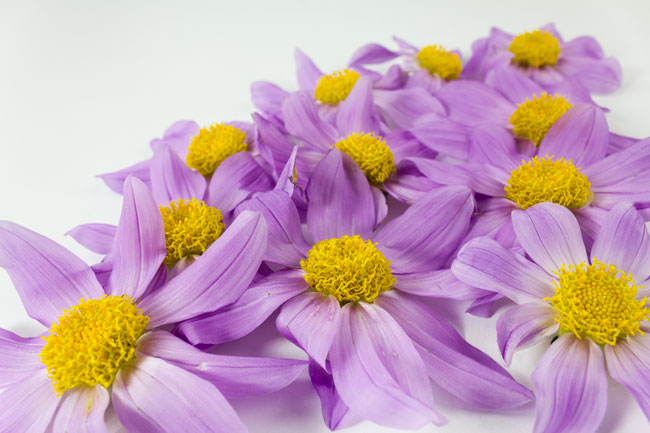 Photo by Sofía Monzón with a Canon EOS Rebel T2i,
lens Canon 50mm f/2.5 Macro, f/7.1, 1/160, ISO 800
PDF, Articles, Books on Dahlia imperialis Roezl.
CARRASCO, Marco, MUNGUÍA, Guadalupe, CASTRO, Arturo, VARGAS, Georgina, HARKER, Mollie and Aarón RODRÍGUEZ
2019
Riqueza, distribución geográfica y estado de conservación del género Dahlia (Asteraceae) en México. Acta Botánica Mexicana. No. 126.

Available online:
www.researchgate.net/publication/328639019_Riqueza_distribucion_geografica_y_estado_de_conservacion_del_genero_Dahlia_Asteraceae_en_Mexico
CASTRO, Victoria
2016
Caracterización nutricional, sensorial y antropológica de la hoja de tzoloj (Dahlia imperialis) para el consumo humano. Universidad de San Carlos de Guatemala. 81 pages.

Available online:
http://biblioteca.usac.edu.gt/tesis/06/06_3978.pdf
FERLANDY, Matías, GODÍNEZ, Sergio and Gabriela BULUX
2014
Guía de identificación de plantas medicinales de uso ancestral de los bosques de Santa María Chiquimula y Totonicapán. Proyecto FCA CARE Totonicapán. 68 pages.
SAFFORD, W. E.
1919
Notes on the genus Dahlia, with descriptions of two new species from Guatemala. Journal of the Washington Academy of Sciences. Vol. 9, No. 13. Pages 364-373.

Available online:
www.jstor.org/stable/pdf/24521418.pdf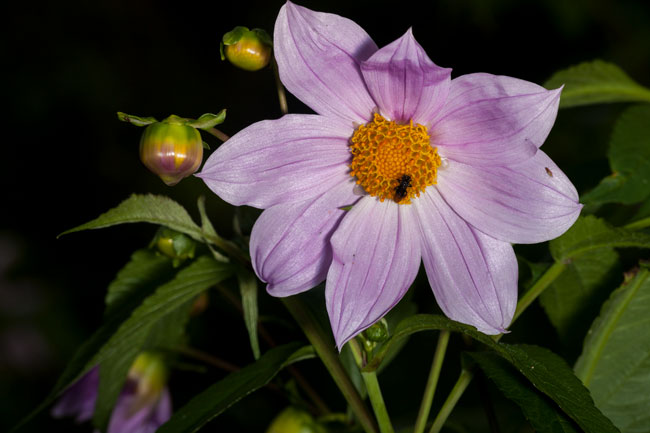 Photo by Sofía Monzón with a Canon EOS-1 Ds Mark III,
lens Canon EF 180mm f/3.5L Macro USM, f/13, 1/250, ISO 200
Suggested webpages with photos and information on Dahlia imperialis Roezl.
www.naturalista.mx/taxa/288936-Dahlia-imperialis
Photos.
www.gbif.org/species/5387165
Photos and map location.
www.theplantlist.org/tpl/record/gcc-36687
Synonyms.
www.tropicos.org/name/02711374?projectid=7
Information.