Acacia dolichostachya in full flowering, June 2019
Every month we do a boat ride into the Rio Ixtinto, since every month there are different trees, bushes, or vines in full flower. The month of June there were dozens of Acacia dolichostachya trees with hundreds of curiously shaped flowers on the slopes overlooking the banks of the Rio Ixtinto.
You enter this river from Lake Yaxha, along the west edge of Topoxte Island. Paxte Island is on the west side of this part of the lake. The ecosystems along the shore of the Rio Ixtinto vary every hundred meters (or less), depending on how much shore area there is, or whether there is a steep bank.
Since the river is filled with stumps from trees that grow here when the water is low plus filled with fallen trees, most lancheros do not want to break the blades of their motors by hitting a tree trunk or tree branch that is underwater. So most lancheros will only take their boat a few hundred meters up the river. The furthest we have ever reached is where there are hundreds of palo de tinto (palo de Campeche) on the left (east) side of the river. It would be helpful if funds were available for a rubber raft or simply to use paddles to go a few more hundred meters into the diverse ecosystems here. But at least we found dozens of Acacia dolichostachya trees in full flower the first week of June. We appreciate the boat from CONAP and the assistance of the IDAEH team at PNYNN.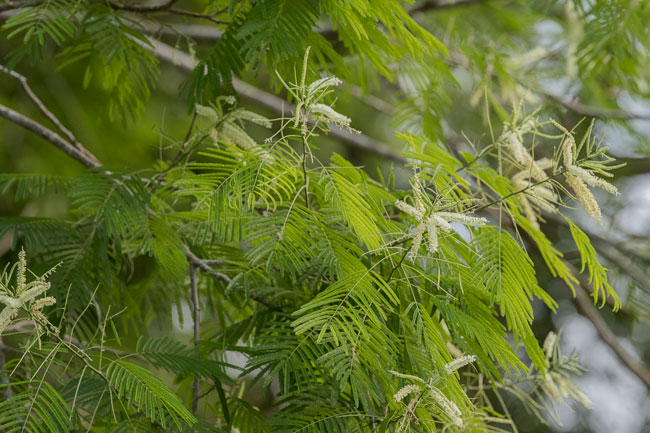 Photo by Maria Alejandra Gutierrez, FLAAR Mesoamerica team with a Canon EOS- 1D X Mark II, lens Canon EF 300mm f/2.8L IS II USM, f/7.1, 1/800, ISO 3200
Common names of Acacia dolichostachya:
Most cited names are: wild tamarind, longspike acacia, jesmo (Grandtner 2005: 12, based on Standley and Steyermark 1946 and other comparable sources). I prefer to also spell it hesmo.
Standley and Steyermark list Lysiloma desmostachys Benth. as hesmó, but the flowers of Lysiloma desmostachys are not the flowers we photographed alongside Rio Ixtinto. What we found was identified by Elena Skekavizza as Acacia dolichostachya.
Also called Cantemo (in Yucatan).
Potential uses of Acacia dolichostachya
Acacia dolichostachya is medicinal (Zamora, Flores and Ruenes 2009: Anexo 1, page 243). But Balick and Arvigo do not list medicinal use in their book on healing plants of Belize (2015: 313). However Murchnick and McCarthy do list the Acacia dolichostachya tree as medicinal (1997: 176).
May be used as a tannin (Balick, Nee, and Atha 2000: 82). Would need to check all books on dye colorants that also mention plant sources of tannin to see whether Acacia dolichostachya is included or missing.
Synonyms: Confusion and almost Contradiction
Wikipedia says that Acacia dolichostachya is a synonym of Mariosousa dolichostachya https://en.wikipedia.org/wiki/Mariosousa_dolichostachya
But the world's largest botanical resource for synonyms says that Acacia dolichostachya S.F.Blake is an accepted name and lists only one synonym: Senegalia dolichostachya (S.F.Blake) Britton & Rose www.theplantlist.org/tpl1.1/record/ild-10240
The plant list says that Mariosousa dolichostachya (S.F. Blake) Seigler & Ebinger is an accepted name. This is the first time I have found such total confusion (and close to total contradiction) on www.ThePlantList.org. Usually its information is perfect (Wikipedia varies; usually good but not always).
Until I can understand the ups and downs of the names of this plant I will continue to use Acacia dolichostachya.
Photo by Dr Nicholas Hellmuth with a NIKON D5, lens Nikon AF-S NIKKOR 400mm f/2.8E FL ED VR, f/13, 1/200, ISO 1600
PDF, Articles, Books on Acacia dolichostachya
You can find the pertinent botanical monographs on this web page: www.tropicos.org/Name/13000094?tab=distribution; but they do not list articles or informative web pages with photos.
ARELLANO, Alberto
2003
Nomenclatura, forma de vida, uso, manejo y distribución de las especies vegetales de la Península de Yucatán. UADY. 815 pages.
BALÉE, William and Clark ERICKSON
2006
Time and complexity in historical ecology: studies in the Neotropical Lowlands. Columbia University Press. 432 pages.
BALICK, Michael J., NEE, Michael H. and Daniel E. ATHA
2000
Checklist of the Vascular Plants of Belize with common Names & Uses. New York Botanical Garden. 246 pages.
BALICK, Michael J. and Rosita ARVIGO
2015
Messages from the GODS, a guide to the useful plants of Belize. Oxford University Press, New York Botanical Garden. 539 pages

Although this book is supposed to be on medicinal plants, the comments for this tree do not include any medicinal use, but the comments are actually more helpful than from Standley and Steyermark:

For tanning leather, the bark is mashed in water and used with white lime in the preparation and preservation of the hide. Wood from the larger trees is used in construction to make marimba keys.." Plus used in house construction (page 313).
GRANDTNER, Miroslav M.
2005
Elsevier's Dictionary of Trees: Volume 1: North America. ELSEVIER. 1493 pages.
MURCHNICK, P. A. and B. C. McCARTHY
1997
An Ethnobotanical Analysis of the Tree Species common to the Subtropical Moist Forests of the Peten, Guatemala. Economic Botany. Vol. 51, No. 2. Pages 158-183.
RICKER, Martin, HENÁNDEZ, Héctor, SOUSA, Mario and Helga OCHOTERENA
2013
Tree and tree-like species of Mexico: Asteraceae, Leguminosae, and Rubiaceae. Revista Mexicana de Biodiversidad. Vol. 84. Pages 439-470.

Available online:
www.scielo.org.mx/pdf/rmbiodiv/v84n2/v84n2a3.pdf
SOUSA, Mario, RICKER, Martin and Héctor HERNÁNDEZ
2001
Tree species of the family Leguminosae in Mexico. Harvard Papers in Botany. Vol. 6, No. 1. Pages 339-365.
STANDLEY, Paul C. and Julian A. STEYERMARK
1946
Flora of Guatemala. Fieldiana, Bot. Volume 24, Part V. 368 pages.

At 800-900 meters; Huehuetenango (between Santa Ana Huista and Rancho Lucas, Steyermark 51338). Yucatan Peninsula of Mexico.

A large shrub or a tree as much as 12 meters high, unarmed, the branches puberulent at first, glabrate in age; petiole bearing a depressed oval gland at about its middle; pinnae 5-11 pairs, the leaflets about 25 pairs, linear-oblong, 3.5-7 mm. long, very obtuse or rounded at the apex, appressed-pubescent or in age glabrate, rather thick; spikes numerous, pedunculate, in anthesis 3-4.5 cm. long, puberulent or glabrate, the bractlets minute, persistent; calyx 0.5 mm. long, puberulent; legume borne on a slender stipe 1.5 cm. long, 9-13 cm. long, 1.3-1.6 cm. wide, obtuse, subacute at the base, glabrous, flat, the valves coriaceous, with conspicuous, elevated, laxly reticulate venation, somewhat lustrous. (Standley and Steyermark 1946: 8).

Note that they do not list this tree for Peten whatsoever.

I always think of a totally different tree when I hear the name quiebra-hacha (quiebra-hacha means a tree whose wood is so strong and solid that you break your axe when you try to chop down this tree).

For example, Lundell (1937: 68) lists Krugiodendon ferreum (Vahl) Urban for Quiebra hacha.
ZAMORA, Pedro, FLORES, Guido, SALVADOR, José and Rocío RUENES
2009
Flora útil y su manejo en el cono sur del Estado de Yucatán, México. Polibotánica. No. 28. Pages 227-250.

Available online:
www.redalyc.org/pdf/621/62112485011.pdf
Suggested webpages with photos and information on Acacia dolichostachya
www.naturalista.mx/taxa/188892-Acacia-dolichostachya
Photos.
www.theplantlist.org/tpl1.1/record/ild-10240
Synonyms.
www.gbif.org/es/species/2979009
Map location.
Photo by Dr Nicholas Hellmuth with a NIKON D5, lens Nikon AF-Micro-NIKKOR 200mm f/4D IF-ED Macro, f/14, 1/250, ISO 2000