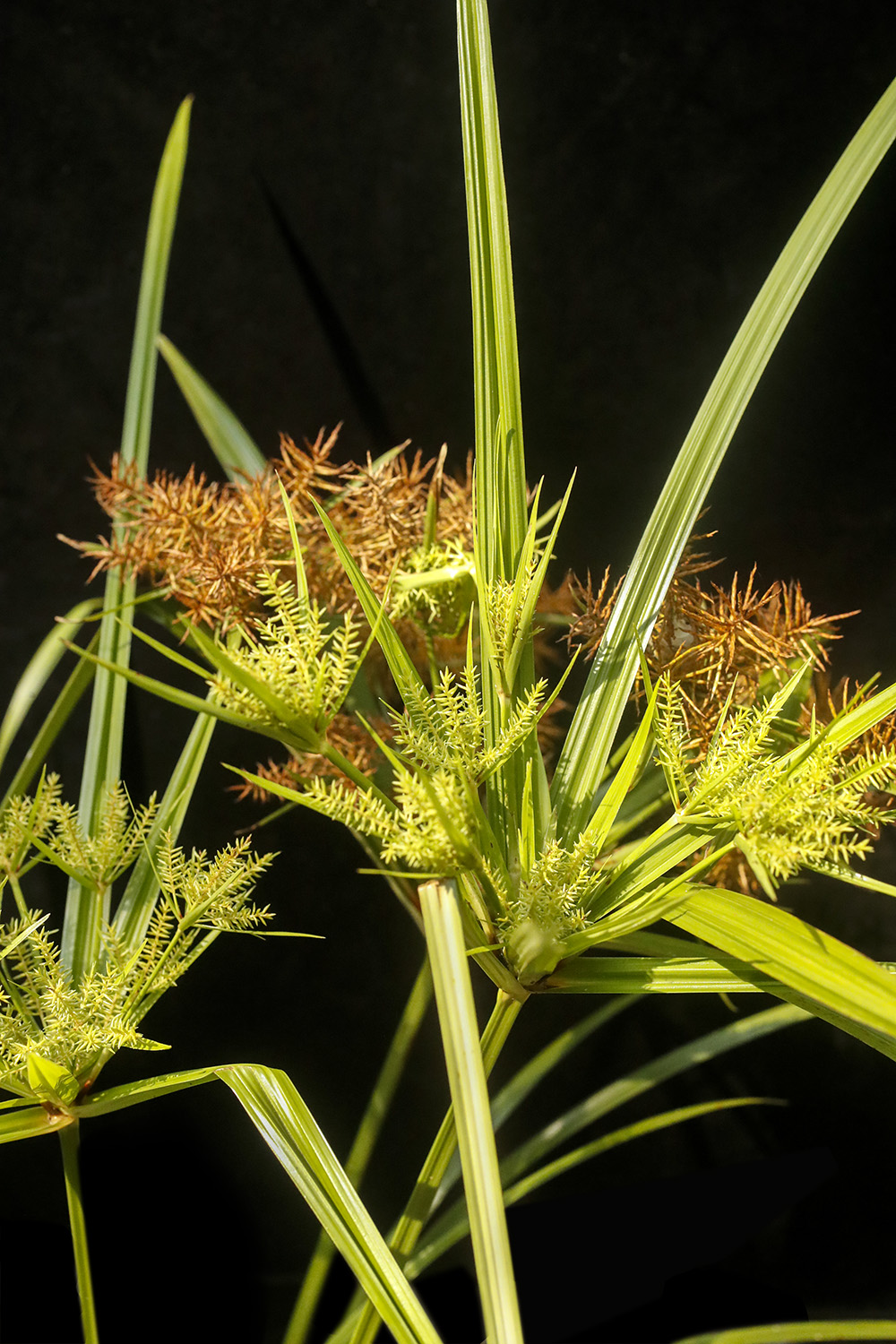 Cyperus esculentus at cebollin, Reserva Aldea Buena Vista, Tapon Creek, Livingston. Photo was taken on April 25, 2021 by Maria Alejandra Gutierrez with a Canon 1DX Mark II camera, Canon 50mm f/2.5 Macro lens, Settings: 1/4000, f/8, ISO 8000.
Cyperus esculentus or "Chufa" is a perennial grass-like plant, is common to found it on the banks of roads, on parcels at rest, on vegetables, on the banks of rivers. We have found it in our field trips at Livingston and what caught our attention was its edible uses. It is said that the tuber is edible, raw, cooked or dried and ground into a powder, also can be obtained oil from the tuber.
According to the Tropical Plants Database, this plant also has medicinal uses: "Tiger nuts are regarded as a digestive tonic, having a heating and drying effect on the digestive system and alleviating flatulence. They also promote urine production and menstruation. The tubers are said to be aphrodisiac, carminative, diuretic, emmenagogue, stimulant and tonic. In Ayurvedic medicine they are used in the treatment of flatulence, indigestion, colic, diarrhoea, dysentery, debility and excessive thirst. The leaves are applied topically as a remedy for headache."
Taxonomy:
| | |
| --- | --- |
| Order | Poales |
| Family | Cyperaceae |
| Genus | Cyperus |
| Species | Cyperus esculentus |
| Common name | Chufa, Coquito, Coyolillo, Coyolito, Cotufa, Tule, zacate de agua, Yellow Nutsedge, Earth Almond |
You can learn more about this plant with the following bibliography we prepared for you.
References Cited and Suggested Reading on Cyperus esculentus
ATRAN, Scott, LOIS, Mimena and Edilberto UCAN Ek'
2004
Plants of the Peten Itza' Maya. Museum of Anthropology, Memoirs, Number 38, University of Michigan. 248 pages.

Very helpful and nice collaboration with local Itza' Maya people. But would help in the future to have a single index that has all Latin, Spanish, and English plant names so that you can find plants more easily. Suzanne Cook's Lacandon ethnobotany index is significantly easier to use.

Not available as a download.
BALICK, Michael J., NEE, Michael H. and Daniel E. ATHA
2000
Checklist of the Vascular Plants of Belize: With Common Names and Uses. Memoirs of the New York Botanical Garden Vol. 85. 246 pages.
BALICK, Michael J. and Rosita ARVIGO
2015
Messages from the Gods: A Guide to the Useful Plants of Belize. The New York Botanical Garden, Oxford University Press.
CONAP
2001
Plan Maestro 2002-2006 Área de Protección Especial Punta de Manabique. CONAP. Fundación Mario Dary Rivera. Guatemala.
DIX, Margaret A. and M. W. DIX
1992
Recursos biológicos de Yaxhá-Nakúm-Yaloch. 54 pages.

This is one of the sources for the tree list portion of CONAP Plan Maestro reports on Yaxha in the past decade. Unfortunately the Dix and Dix list is rather limited. The 1999 Schulze and Whitacre list for Tikal is more complete (but all these lists need more field work to improve).

We have asked several times for a copy of the original Dix and Dix report, but have never received one.
DECASTRO, Olga, GARGIULO, Roberta, DEL GUACCIO, Emanuele, CAPUTO, Paolo and Paolo DE LUCA
2015
A molecular survey concerning the origin of Cyperus esculentus (Cyperaceae, Poales): two sides of the same coin (weed vs. crop). Annals of Botany 115: 733–745,
DEFELICE, Michael
2002
Yellow Nutsedge Cyperus esculentus L.: Snack Food of the Gods. Weed Technology, Vol. 16, No. 4, pp. 901-907
DJOMDI, Djombi, HAMADOU, Bakari, GIBERT, Olivier, TRAN, Thierry, DELATTRE, Cedric, PIERRE, Guillaume, MICHAUD, Philippe, EJOH, Richard and Robert NDJOUENKEU
2020
Innovation in Tigernut (Cyperus Esculentus L.) Milk Production: In Situ Hydrolysis of Starch. Polymers 2020, 12, 1404.

Available on-line: doi:10.3390/polym12061404
FEDICK, S. L.
2010
The Maya Forest: destroyed or cultivated by the ancient Maya? Proceedings of the National Academy of Sciences, USA 107: 953–954.
FUNDARY-ONCA
2001
Plan Maestro 2002-2006 Área De Protección Especial Punta De Manabique. Consejo Nacional De Áreas Protegidas Fundación Mario Dary Rivera.
GOODWIN, Z. A., LÓPEZ, G. N., STUART, N., BRIDGEWATER, G. M., HANSTON, E. M., CAMERON, I. D., MICHELAKIS, D., RATTER, J. A., FURLEY, P. A., KAY, E., WHITEFOORD, C., SOLOMON, J. LLOYD, A. J. and D. J. HARRIS
2013
A checklist of the vascular plants of the lowland savannas of Belize, Central America. Phytotaxa 101 (1): 1–119.

Available Online:
www.eeo.ed.ac.uk/sea-belize/outputs/Papers/goodwin.pdf
HIDALGO, Hugo and Cristofer LOPEZ
2007
Propuesta de Incorporación a la Convención Ramsar del Área Protegida "Reserva de Usos Múltiples Río Sarstún". FUNDAECO.
IBARRA-Manríquez, Guillermo, VILLASEÑOR, José Luis and Rafael DURÁN García
1995
Riqueza de especies y endemismo del componente arbóreo de la Península de Yucatán, México. Bol. Soco Bot. México 57: 49-77 (1995)
HELLMUTH, Nicholas M.
2013
Maya Ethnobotany, Complete Inventory, Fruits, nuts, root crops, grains, construction materials, utilitarian uses, sacred plants, sacred flowers 12th edition. FLAAR Reports, FLAAR (USA) and FLAAR Mesoamerica (Guatemala). 106 pages.

The 13th edition that followed is an update but the 12th edition has tons of material to get you started.
HELLMUTH, Nicholas M.
2014
Maya Ethnobotany, Complete Inventory, Fruits, nuts, root crops, grains, construction materials, utilitarian uses, sacred plants, sacred flowers 13th edition. FLAAR Reports, FLAAR (USA) and FLAAR Mesoamerica (Guatemala). 111 pages.
HITZIGER, Martin
2016
Mayan phytotherapy in Guatemala: A transdisciplinary study for ethnographic documentation and local empowerment. PhD dissertation, ETH, Zurich.
LEVY Tacher, Samuel I., AGUIRRE Rivera, J. Rogelio, GARCÍA Perez, José D. and María Magdalena MARTÍNEZ Romero
2006
Aspectos florísticos de Lacanhá Chansayab, Selva Lacandona,Chiapas. Acta Botánica Mexicana, núm. 77, octubre, 2006, pp. 69-98. Instituto de Ecología, A.C., Pátzcuaro, México.
LUNDELL, Cyrus L.
1937
The Vegetation of Peten. Carnegie Institution of Washington, Publ. 478. Washington. 244 pages.
MEERMAN, J. C., HERRERA, P. and A. HOWE
2003
Rapid Ecological Assessment Sarstoon Temash National Park Toledo District, Belize. Volume II: Appendices (Species lists and raw data). Temash Institute for Indigenous Management (SATIIM). 92 pages.
RUIZ, CLAUDIA, et al.
2006
Plan Maestro de la Reserva Protectora de Manantiales Cerro San Gil, 2008-2012. Consejo Nacional de Áreas Protegidas (CONAP), Fundacion Para el Ecodesarrollo y la Conservacion (FUNDAECO), The Nature Conservancy (TNC)
SÁNCHEZ-Zapata, Elena, FUENTES-Zaragoza, Evangélica, FERNÁNDEZ-López, Juana, SENDRA, Esther, SAYAS, Estrella, NAVARRO, Casilda and Jose Angel PÉREZ-Álvarez
2009
Preparation of Dietary Fiber Powder from Tiger Nut. (Cyperus esculentus) Milk ("Horchata") Byproducts and Its Physicochemical Properties. J. Agric. Food Chem. 2009, 57, 7719–7725.
SÁNCHEZ, Elena, FERNÁNDEZ, Juana and Ángel PÉREZ
2012
Tiger Nut (Cyperus esculentus) Commercialization: Health Aspects, Composition, Properties, and Food Applications. Comprehensive Reviews in Food Science and Food Safety, Vol.11
STANDLEY, Paul C. and Samuel J. RECORD
1936
The Forests and Flora of British Honduras. Field Museum of Natural History. Publication 350, Botanical Series Volume XII. 432 pages plus photographs.
STANDLEY, Paul C.
1926
Trees and Shrubs of Mexico. Contributions from the United States National Herbarium, Volume 23, Part 5. Smithsonian Institution.

In this one monograph the species are not listed in alphabetical order, so it's a mental adventure finding the species you are looking for.

All monographs by Standley and co-authors can be easily found and downloaded. I would recommend finding the .pdf versions as they are easier to store, easier to copy, and easier to share with students and colleagues.
STANDLEY, Paul C.
1930
Flora of Yucatan. Botanical Series, Vol. III, No. 3, Publication 279. Field Museum of Natural History.
STANDLEY, Paul C. and Julian A. STEYERMARK
1958
Flora of Guatemala. Fieldiana: Botany, Volume 24, Part I. Chicago Natural History Museum.
VÁSQUEZ Marroquín, Miguel Ángel
2004
Plan de Proyecto Parque Nacional Tikal. Parque Nacional Tikal, Petén, Guatemala.
WILLIAMS, Louis O.
1981
Foods for Early Man. CEIBA, Vol. 24 Núm. 1-2, Escuela Agrícola Panamericana, Zamorano.
Suggested webpages with photos and information on Cyperus esculentus
www.backyardnature.net
Jim Conrad's helpful web site, as usual, photos better than most other web pages.
www.cicy.mx/
Species list.
http://www.conabio.gob.mx/malezasdemexico/cyperaceae/cyperus-esculentus/fichas/ficha.htm
Complete information
www.inriodulce.com
A helpful web site for visitors for Rio Dulce. Species names have changed; best to feature the accepted name and list the synonyms.
https://naturalezatropical.com/
Information and cultivation
http://tropical.theferns.info/viewtropical.php?id=Cyperus+esculentus
General information, uses and photos
https://pfaf.org/user/plant.aspx?LatinName=Cyperus+esculentus
General information and photos
http://www.theplantlist.org
Shows which are Accepted and which are Synonyms.
www.youtube.com/watch?v=RcQAlNbP9NE
How to eat and how to make milk out of Cyperus esculentus