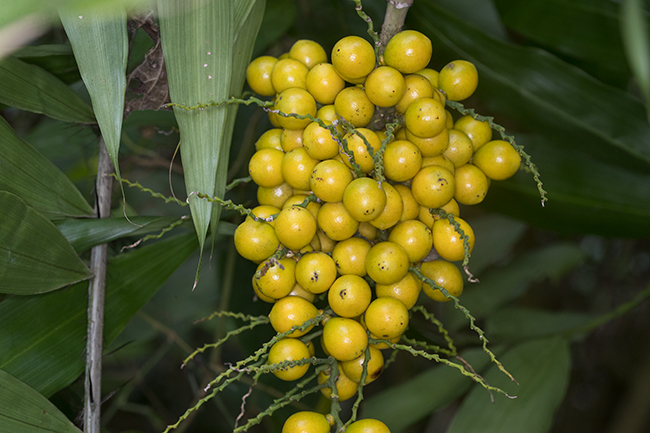 Camera Canon EOS-1D Xmark II, lens Canon EF 100MM F/2.8 MACRO USM;
settings: f/8, speed 1/30, ISO 1000.
Photo by Maria Alejandra Gutiérrez
PDF, Articles, Books on Desmoncus orthacanthos
BARRIOS, Mercedes
2006
Exploración del potencial de cultivos alternativos perennes de alto valor (Theobroma cacao L.), aplicados en áreas selectas para la restauración de selvas lluviosas fragmentadas en Cobán y Cahabón, Alta Verapaz. CONCYT. 124 pages.

Available Online:
http://glifos.concyt.gob.gt/digital/fodecyt/fodecyt%202006.15.pdf
BEUTELSPACHER, Carlos
2009
Semillas utilizadas para elaborar artesanías lacandonas en Chiapas, México. Lacandonia, Rev. Ciencias UNICACH. Vol. 3, No. 2. Pages 45-58.
ESCALANTE, Sigfredo
2004
Estudios poblacionales de Desmoncus orthacanthos Martius (Arecaeae) en el sur de Quintana Roo, México. Instituto de Ecología, A.C. 204 pages.
ESCALANTE, Sigfredo, MONTAÑA, Carlos and Roger ORELLANA
2004
Demography and potential extractive use of the liana palm, Desmoncus orthacanthos Martius (Arecaeae), in southern Quintana Roo, Mexico. Forest Ecology and Management. Vol. 187, No. 1. Pages 3-18.

Sold Online:
www.sciencedirect.com/science/article/pii/S0378112703002287
HENDERSON, Andrew, GALEANO, Gloria and Rodrigo BERNAL
1997
Field guide to the palms of the Americas. Princeton University Press. 352 pages.
STANDLEY, P. C. and J. A. STEYERMARK
1958
Flora of Guatemala. Part I. Fieldiana, Bot. Vol. 24, No. 1. Pages 258-259.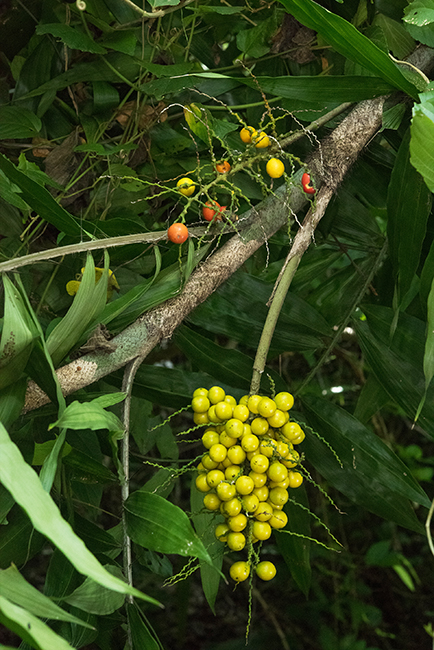 Camera Nikon D810, lens Nikon AF-S Micro 60mm F2.8 G; settings: f/9, speed 1/100, ISO 6400. Photo by Dr Nicholas Hellmuth
Information on the utilitarian potential of Desmoncus orthacanthos
BELSKY, J. M. and S. F. SIEBERT
1998
Non-timber forest products in community development and conservation Desmoncus sp. (tie-tie) in Gale's Point Manatee, Belize. In: Primack, R. B., Bray, D., Galleti, H., Ponciano, I. (Eds.), Timber, Tourists, and Temples: conservation and development in the Maya Forest of Belize, Guatemala, and Mexico. Islad Press, Washington, DC. Pages 224-244.

Available online:
www.cas.umt.edu/facultydatabase/FILES_Faculty/1121/NTPCDC.pdf
CHINCHILLA, Mario
1994
Caracterización de las poblaciones de Bayal (Desmoncus spp.), con fines de aprovechamiento artesanal, en la unidad de manejo forestal de San Miguel, San Andrés, Petén. Universidad de San Carlos de Guatemala. 206 pages.

Available online:
http://biblioteca.usac.edu.gt/tesis/01/01_1431.pdf
LUNDELL, C. L.
1937
The vegetation of Petén, with and Appendix, studies of Mexican and central American plants. Vol. I. Carneige Institute of Washington.
ORELLANA, Roger, HERRERA, Pedro, REBOLLAR, Silvia, ESCALANTE, Javier, LÓPEZ, Gerardo, ESCALANTE, Sigfredo and Leonardo GUS
1999
Studies on the potential uses of some native palms of the Yucatan Peninsula (Mexico) as substitutes of rattan. Proc. Of the 2nd Int. Symp. On ornamental palms and other monocots from the tropics. Acta Hort. 486. Pages 1-6.

Available online:
www.researchgate.net/publication/281716353_Studies_on_the_potential_uses_of
_some_native_palms_of_the_Yucatan_Peninsula_Mexico_as_substitutes_of_Rattan
/link/55f5dcbf08ae7a10cf8b78c2/download
Suggested webpages with photos and information on Desmoncus orthacanthos
www.theplantlist.org/tpl1.1/record/kew-60404?ref=tpl1
Synonyms.
http://panamasilvestre.blogspot.com/2011/05/desmoncus-orthacanthos-arecaceae.html
Information and photos of the fruits.
http://tropical.theferns.info/viewtropical.php?id=Desmoncus+orthacanthos
Information and photos.
www.tropicos.org/Name/2401137?tab=acceptednames&langid=66
Information.
http://biogeodb.stri.si.edu/biodiversity/bci/species/18137/
Information and photos.