Bibliography on Cojoba sp. and Cojoba arborea
Species description and general information
Cojoba Britton & Rose is a genus of the family Fabaceae and the subfamily Mimosoideae and is a member of the tribe Ingeae (Santana, 2015). Sometimes the word "Cojoba" lets to confusion since it refers to several species like Swietenia mahagoni (L.) Jacq. and Piptademia peregrine (L.) Benth. P. peregrine was used by the Taino Indians of the Bahamas in a ceremony called Cohoba, in which they inhaled a hallucinogenic substance obtained by pulverizing the seeds of the tree (Santana, 2015).
Description of Cojoba arborea
This species is a fast-growing tree that reaches more than 40 m in height and 50-80 cm in diameter in the natural forest. Straight trunk without buttresses and latex free (Red de Viveros de Biodiversidad, n.d.). The foliage is shiny and the bark is brown or grayish brown and smooth and sometimes has small, longitudinal fissures. The inner bark is pinkish and has bitter taste. The leaves are compound, bipinnate, with 10 to 18 pairs of pinnae, opposite or semiopposite, each with 20 to 40 pairs of opposite, sessile pinnules. The flowers are in pedunculate axillary heads in the upper leaf axils. The calyx is green and tubular and the corolla, whitish or creamy (Vozz, 2002). The seeds of this species are dispersed by parrots an parakeets but mostly by gravity.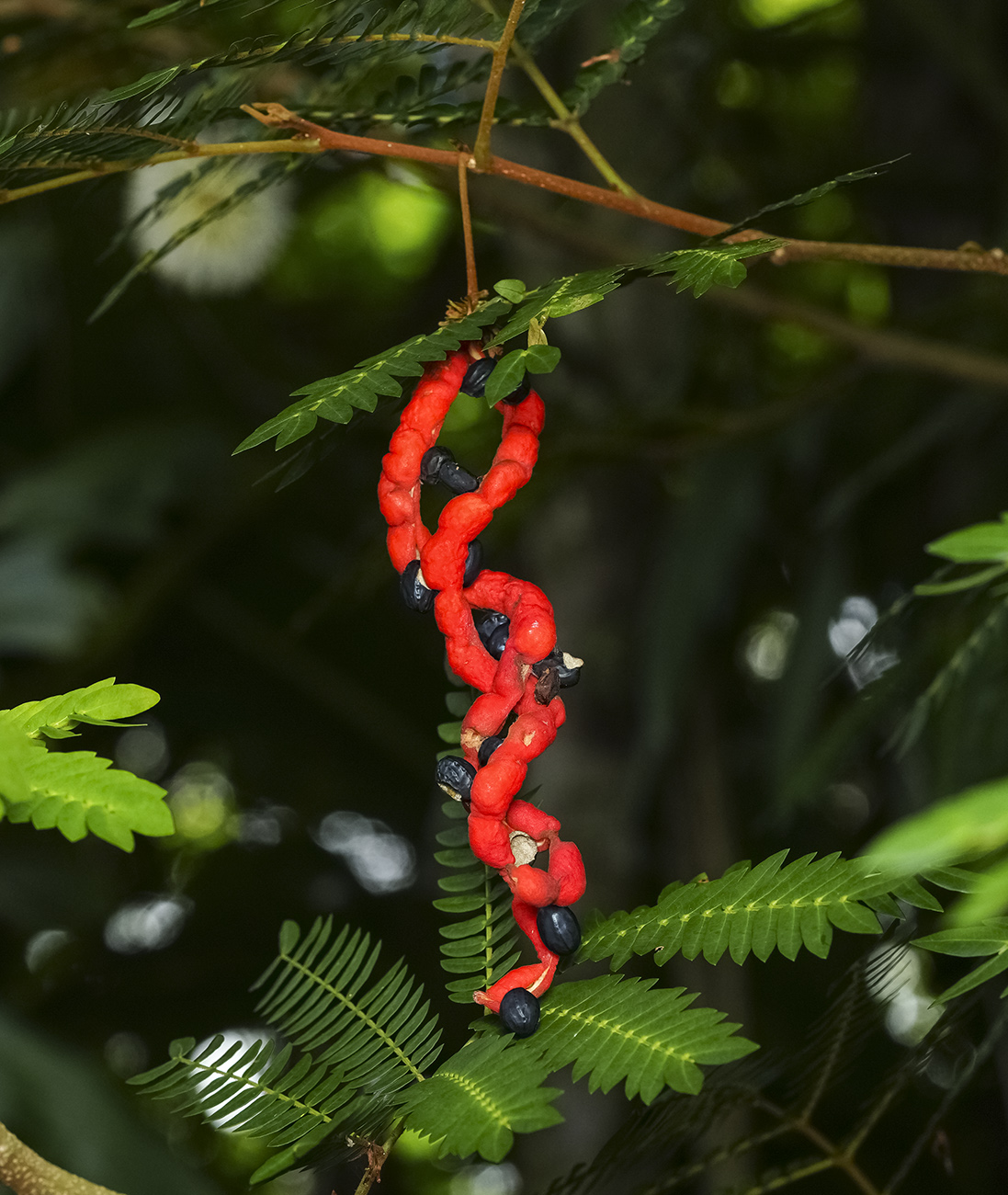 Cojoba arborea, frijolillo. White flower. Crike, Esmeralda, Río Dulce, Livingston. (June 20, 2021) Photography by: David Arrivillaga
The species distribution extends from southern Mexico, along the East Coast of Central America and Cuba, Jamaica, Puerto Rico, Colombia, Bolivia, Peru and Brazil (Carvalho et al., 2021). It's a typical tree of the tropical rain forest of the coastal lowlands with clay or sandy alluvial soils, it grows well at elevations up to 1200 m (Vozz, 2002). C. arborea has three varieties distributed in Latin America: angustifolia, arborea and cubensis (Ferreira et al., 2021).
Taxonomy
| | |
| --- | --- |
| Class | Magnoliopsida |
| Order | Fabales |
| Family | Fabaceae |
| Tribe | Ingeae |
| Genus | Cojoba |
| Species | Cojoba arborea |
| Common names | mehen bu'ulche' (Mayan name), frijolillo, coralillo, caracolillo,cola de mico |
Uses of the species
The wood of Cojoba arborea is odorless and tasteless an it can be used for flooring, ceilings, ornament work, furniture, wheel hubs, rollers, brush backs, mills, and railroad ties. Wood can also be used for firewood, charcoal, fence posts, and tool handles as well in the manufacture of musical instruments due to its excellent quality (Carvalho et al., 2021).
The species is also used as an ornament and shade tree (Vozz, 2002). Some studies have proven that C. arborea presents anti-inflammatory activity along with other species such as Jacaranda arborea, Mikania cordifolia and Bauhinia cumanensis (Hirukawa et al., 2020).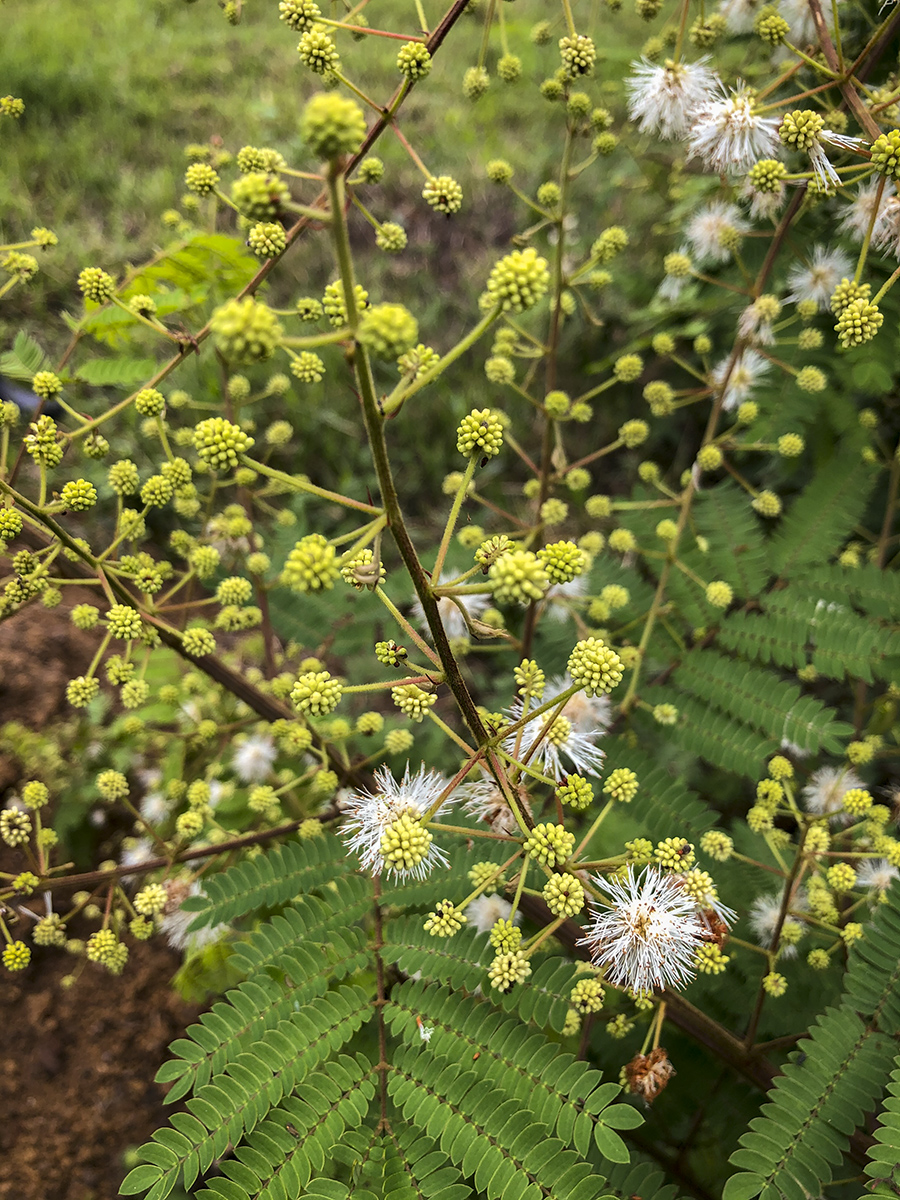 Cojoba arborea, frijolillo. Red fruit. Crike, Esmeralda, Río Dulce, Livingston. (June 20, 2021) Photography by: David Arrivillaga
Below we compiled a selected bibliography for you to learn more about the genus, its uses and studies related to it.
References Cited on Cojoba
FERREIRA, M., VELOSO, M., ARAÚJO, D., SOUZA, W., MENDONÇA, A. and A. CLEUZA
2021
Geographical distribution of Cojoba arborea (L.) Britton & Rose in the Americas. Brazilian Journal of Development, Vol. 7, Num. 11. 12 pages. This article presents a distribution map for the species and it varieties.
HIRUKAWA, M., ZHANG, M., ECHENIQUE, M., MIZOTA, K., OHDACHI, S., BEGUÉ, G., DELGADO, J. GÁMEZ, J. and J. ÁLVAREZ
2020
Isolation and structure-activity relationship studies of jacaranones: anti- inflammatory quinoids from the Cuban endemic plant Jacaranda arborea (Bignoniaceae). Tetrahedron Letters, Vol. 61, Num. 18. 8 pages.

Available Online:
www.sciencedirect.com/science/article/abs/pii/S0040403920304482
Suggested Reading Cojoba sp.
COOK, S.
2016
The forest of the Lacandon Maya: an ethnobotanical guide. Springer. 334 pages.

Different Mayan names for the genus Cojoba sp. are presented in this book.

Available Online:
www.springer.com/la/book/9781461491101
RICO-ARCE, M.
1991
New Species, Combinations and Synonyms for Zygia, Cojoba, Marmaroxylon and Pithecellobium (Leguminosae: Mimosoideae, Ingeae). Kew Bulletin. Vol. 46. Num. 3. 493 pages.

The article includes a botanical key for the genus Cojoba sp.

Available Online:
www.jstor.org/stable/4110539
Suggested websites Cojoba sp.
www.cedaf.org.do/arboles_dominicanos/index_ncomun.php?comun=Abey
Description, distribution and some pictures of Cojoba arborea
https://catalogofloravalleaburra.eia.edu.co/species/35
Origin of the name Cojoba, description of the species and more information
www.verarboles.com/Frijolillo/frijolillo.html
Description and wood uses of C. arborea