Introduction to Hibiscus furcellatus Desr.
We found this Hibiscus flowering in Savanna #10, Parque Nacional Laguna del Tigre, Reserva de la Biosfera Maya, Peten, Guatemala. This park is in the western part of Peten, not far from Tabasco and Chiapas area of Mexico. In the Portal de Biodiversidad de Guatemala only two lonely specimens are listed for Guatemala, both collected by the same botanist in one single location, Departamento Izabal: South shore of Lake Izabel, near sea level. We have to double-check our suggested identification as H f, but if we are correct is this the first identification of h f in Peten? There were about a hundred of these bushes in the transition zone, north side, Savanna #10 (also known as Spider Lily Savanna due to finding lots of these white flowers blooming during our August 2021 field trip). I prefer the name sleepy hibiscus.
Color of the flowers varies; may depend on soil, sunshine, and whether the flower just opened or is maturing.
Uses of Hibiscus furcellatus
The best place to learn uses of plants of Guatemala is to look in the monograph on plants of Belize. Balick, Nee and Atha have produced a book for which there is nothing like it for Honduras, El Salvador, Guatemala. Mexico has dozens of excellent books on plants but I have not yet found one as helpful as Balick, Nee and Atha (2000: 69 for Hibiscus). However books tend to list a use only for the country that they cover, so there are no uses for Hibiscus furcellatus in Belize. But my focus is learning what plants of Guatemala have uses elsewhere in the world which means 2,000 years ago the Maya could have eaten the leaves or made tea from the flowers. Understandably no book on edible plants of the Maya includes Hibiscus furcellatus in any category, but since most Hibiscus are edible, and since leaves and seeds of Hibiscus furcellatus are used elsewhere in the world, it should be included in edible plants of the Mayan world. Further research is needed to document this estimate (that Hibiscus furcellatus itself is edible).
Hibiscus furcellatus and insects
You could do an entire PhD dissertation on the association of Hibiscus furcellatus and various insects. But we are so busy with savannas, the symbiotic, mutualistic and other relationships are best accomplished separately. We saw these insects on the dried seed pods.
Hibiscus furcellatus Desr., Species description and general information
This malvaceous plant is a shrub that reaches three meters in height and has thin abundant stems. It presents heart-shaped leaves and large flowers with five pinkish petals. It has extrafloral nectaries in the capsule-shaped fruit that has stinging hairs where the seeds are. It propagates by seeds and grows on the banks of streams with submerged roots and in roadsides (Barrios et al., 2018). A remarkable organ in this plant is a ring of stiff "forks" curving up around the flower and fruit base. These forks are oversized, stiff bractlets and it seems that they are protective. When the blossom is open the forks don't block anything, but before that they form a tight cage around the expanding bud. Then, the two tines on the fork spread across the top of the bud so attackers don't have it easy (Treasure Coast Natives, 2019). Hibiscus furcellatus is a species with a widest distribution, from Venezuela to NE Argentina and also to Central America and Mexico (Krapovickas and Fryxell, 2004).
In Mexico this Hibiscus furcellatus is found in: CAM, CHIS, GRO, NAY, PUE, QRO, TAB, VER (Villasenor 2016: 236), so no surprise that we found Hibiscus furcellatus in Peten because Chiapas, Tabasco, and Campeche border on Peten.
This species is part of a section of the Hibiscus genus called Furcaria. All species belonging to this section have large, showy flowers that are usually cultivated in gardens and H. furcellatus is cultivated as an ornamental plant (Krapovickas and Fryxell, 2004).
Taxonomy:
Order

Malvales

Family

Malvaceae

Genus

Hibiscus

Species

Hibiscus furcellatus Desr.

Common names

Algodoncillo, Lindenleaf
rosemallow, sleepy hibiscus
It is important to note that in its flowers and extrafloral nectaries, medium-sized wasps act as predators of butterfly larvae. There area other insects that live in these plants and act as pest controllers. Insects from the Eulophidae and Vespidae families live on H. furcellatus as parasites or predators of Hispoleptis subfasciata and other generalist predators (Barrios et al., 2018). This plant is also the home of ants. The buds, flowers, and pods have big showy nectar glands on the outside that draw millions of ants that protect the hibiscus from pests out to steal nectar, seeds, or other floral parts (Treasure Coast Natives, 2019). Below is a selected bibliography for you to learn more about the species and how to identify it.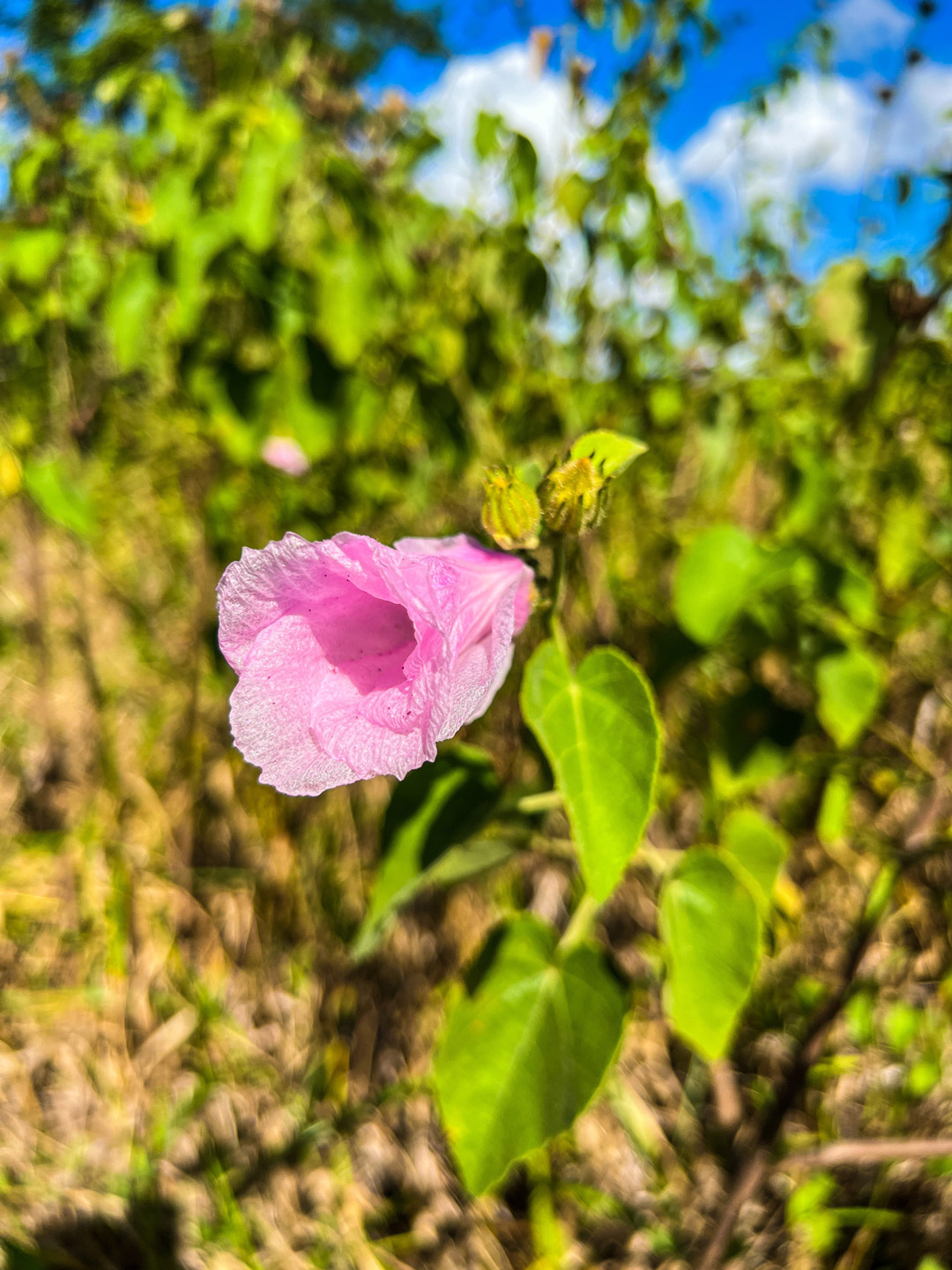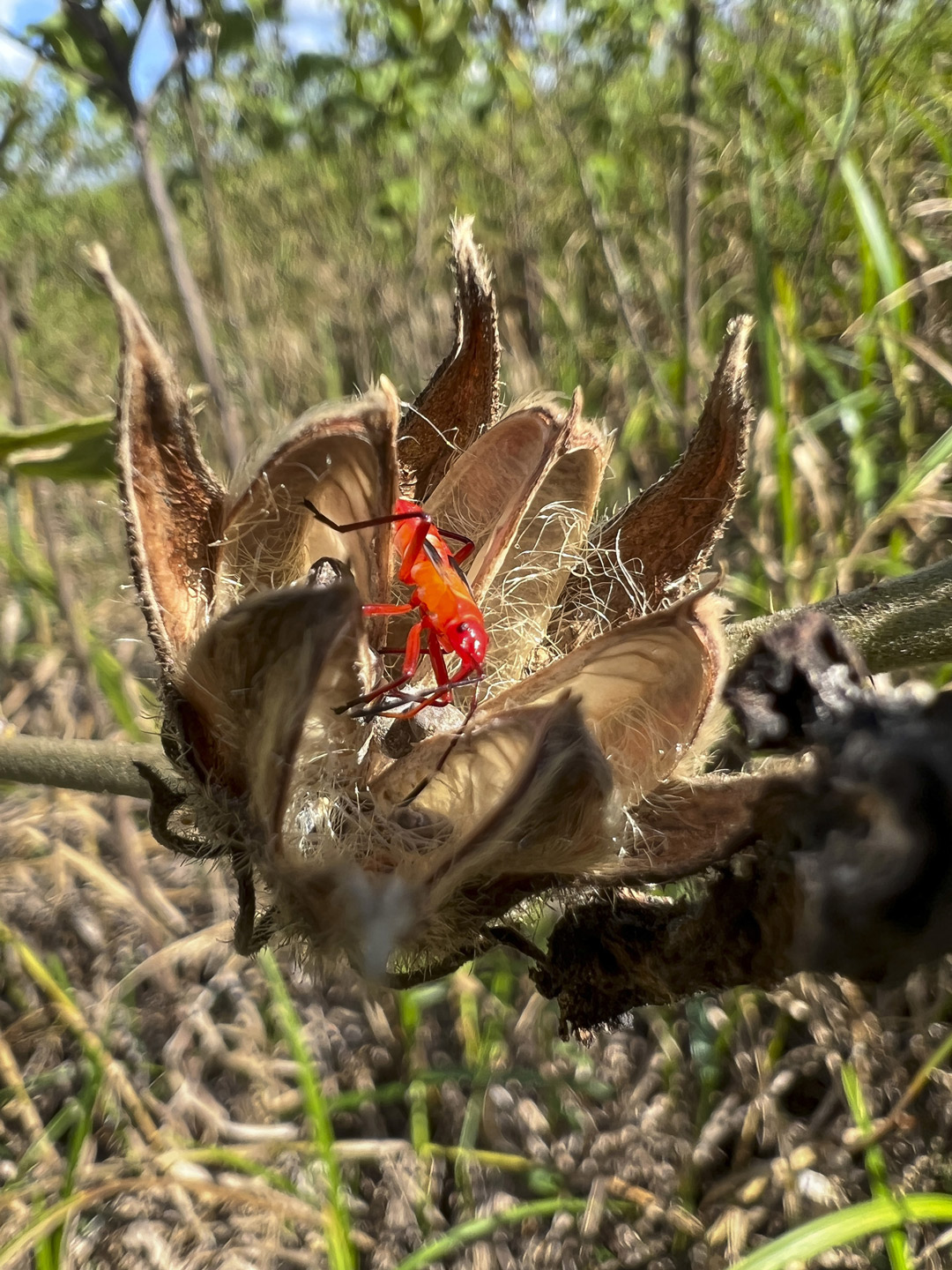 Spider Lily at Savanna, Hibiscus furcellatus Malvaceae. Photos were taken with an iPhone 13ProMax on Jan 9,2022 by Dr Nicholas Hellmuth
References Cited and Suggested Reading on Hibiscus furcellatus
ARECES, F.
2016
Las especies cubanas de Hibiscus sección Furcaria (Malvaceae). Jardín Botánico Nacional, Universidad de La Habana, Cuba.

Available Online:
www.jstor.org/stable/42597212
BALICK, Michael J., NEE, Michael H. and Daniel E. ATHA
2000
Checklist of the Vascular Plants of Belize: With Common Names and Uses. Memoirs of the New York Botanical Garden Vol. 85. 246 pages.
BARRIOS, C., ALDANA, R., BUSTILLO, A., CASTILLO, N., CASTRO, R., PULGARIN, J. and LOZANO, M.
2018
Guía de bolsillo Plantas nectaríferas asociadas a plantaciones de palma de aceite, que favorecen la fauna benéfica de este ecosistema. Cenipalma.
DEL PILAR, A.
n. d.
Los "Hibiscus" de la Flora Argentina (Malvaceae) Tomo VII. Instituto del Museo de la universidad Nacional de La Plata.
KRAPOVICKAS, A. and FRYXELL, P.
2004
Las especies sudamericanas de Hibiscus secc. Furcaria DC. (Malvaceae-Hibisceae). BONPLANDIA, 13(4), 35–115.

It includes a botanical key to identify native and adventitious South American species of the genus Hibiscus

Available Online:
www.jstor.org/stable/41941259
Suggested webpages with photos and information on Hibiscus furcellatus
https://www.gbif.org/es/species/7456481
Pictures and distribution of the species
https://toptropicals.com/html/toptropicals/articles/shrubs/hibiscus_furcellatus.htm
There are dozens of webpages that list different hibiscus plants as having edible parts; this is just one of many.
https://treasurecoastnatives.wordpress.com/2019/02/02/linden-leaf-hibiscus-and-its-buggy-friends/
Treasure Coast Natives: Linden-Leaf Hibiscus and Its Buggy Friends – Discussion about H. furcellatus structures