Description of Rhizophora mangle
The red mangrove (Rhizophora mangle) is a tree species of the Rizophoraceae family. It's from 1.5 to 15 m (up to 30 m) tall; the leaf arrangement is opposite/subopposite, leaf type simple, leaf margin entire and shape elliptic (oval). Leaf venation none or difficult to see with a blade length of 1 to 6 inches. Leaf color dark to medium green on top, paler green underneath with tiny black dots that require hand lens to view. White flowers that emerge in clusters of 2-3 on leaf axils primarily early to mid summer, but also year-round. Fruit is egg-shaped with a dry brown cover, persists on the plant; often with a pencil shaped propagule emerging from the base, extending up to 11", and varying from light green, dark green, to reddish brown. It has showy branches, no thorns. Bark reddish brown and smooth, becoming gray and slightly fissured with age. Roots branched, curved and arched. They have aerial extensions that emerge form the ground and are called pneumatophores. This description has been adapted from the species description of Gillman et al. (2016) and CONABIO (2013).
Taxonomy:
| | |
| --- | --- |
| Order | Malpighiales |
| Family | Rizophoraceae |
| Genus | Rhizophora |
| Species | Rhizophora mangle |
| Common names | Mangle rojo, Mangle Colorado, Candelón, Tapché, Mangle tinto |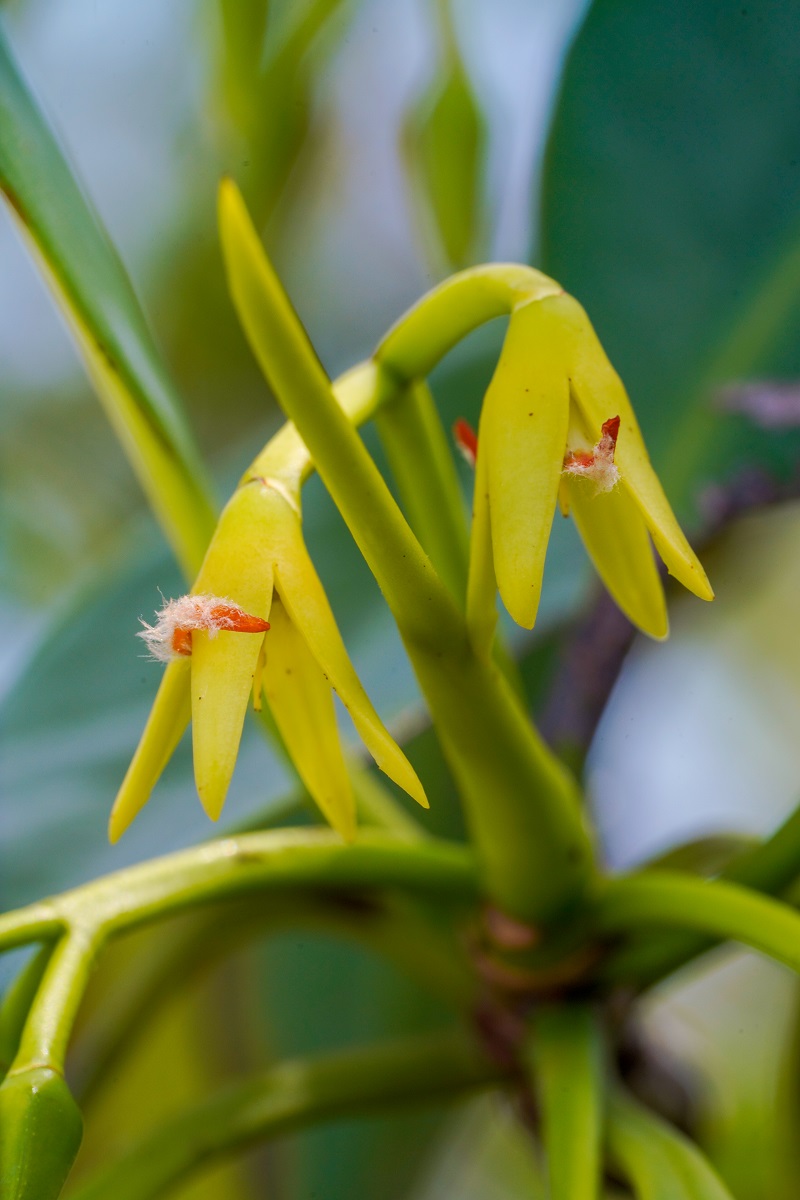 Rhizophora mangle flowers. Punta de cocoli, Livingston (Apr 30, 2021). Photography by: David Arrivillaga
Red mangroves in Rio San Pedro, Tabasco, Mexico
Mexico is one of the five countries in the world with the largest area of mangroves distributed in 17 coastal states of the country on both coasts (Rivera et al., 2020). There's been six species registered in the country, four of them are the most common and they're also endangered (Rivera et al., 2020). The red mangrove (Rhizophora mangle) is one of these species. Most of the Rio San Pedro flows within the Yucatan Platform, a massive karst block that forms the Yucatan Peninsula. It runs in a northwest direction from its sources in the El Petén rainforest in Guatemala to the Reforma Waterfalls in Tabasco, Mexico (Aburto et al., 2021). Red mangroves occur along the karstic banks and lakes of the Rio San Pedro between the Reforma Waterfalls and Guatemala's El Petén Department, where they enter 8 km past the Tabasco-Guatemala border on to the community of San Andrés (Aburto et al., 2021).
Red mangroves have drawn researchers attention because their distribution in Rio San Pedro seems uncommon. For a long time, scientist thought that these mangroves were only distributed in salted waters, but turns out that in addition to their ability to grow on seawater, they can establish and grow well in calcic fresh waters without any need for seawater (Aburto et al., 2021). Recently researchers did study where they discovered how the coastal mangroves were established so deep in fresh water, away from the ocean. Turns out that the San Pedro mangrove forests have survived from a past warmer environment where sea levels were significantly higher than at present, high enough to flood Tabasco lowlands of Mexico and reach what today are tropical rainforest on the banks of Rio San Pedro. They reached their current location during the last interglacial period, about 125,000 years ago, and persisted there during the last glaciation (Hook, 2021).
This discovery is very important because it shows the extensive landscape impacts of past climate change on the world's coastlines and highlights that during the last interglacial, much of the Gulf of Mexico coastal lowlands were under water.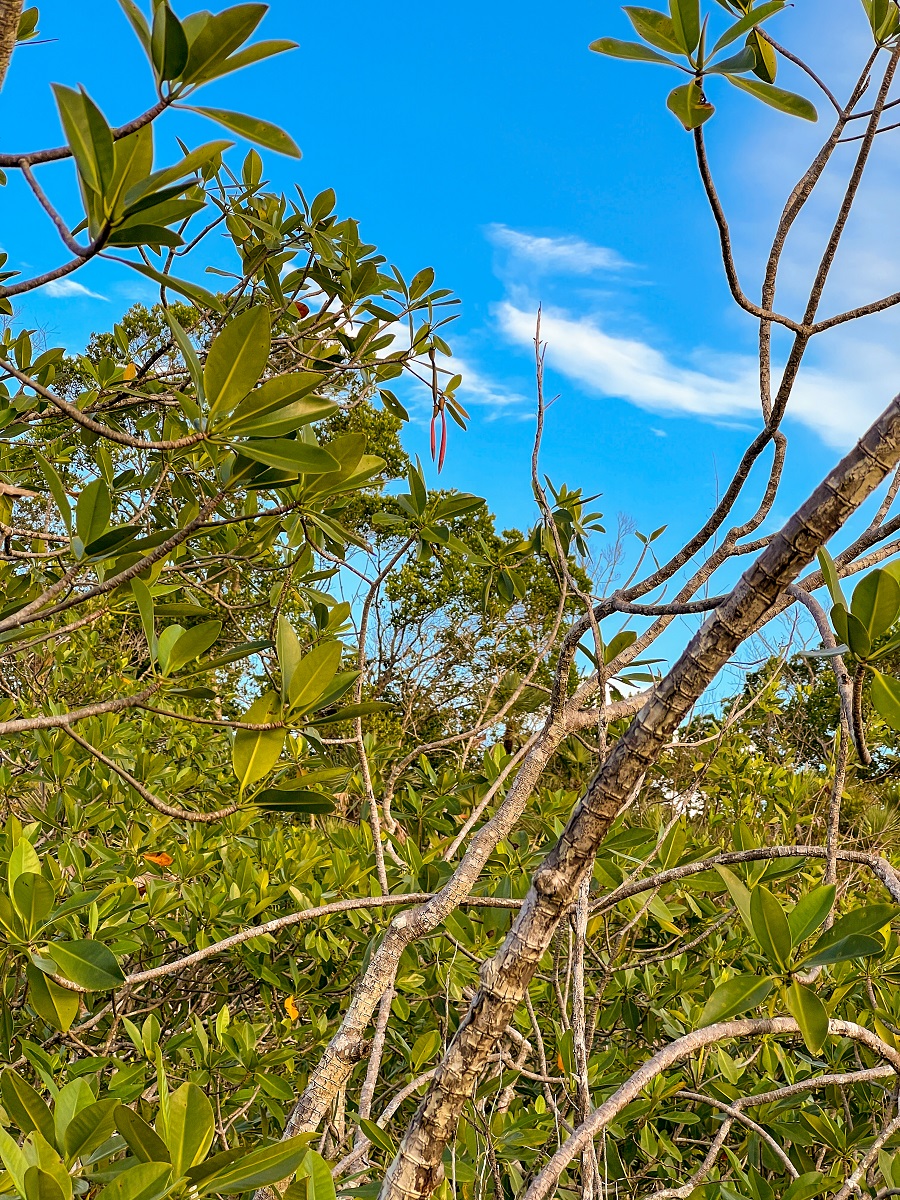 Rhizophora mangle fruits. Rio Sarstun, Laguna Grande, Livingston (Oct 7, 2021). Photography by: Roxana Leal (iPhone 13 Pro Max)
Uses, importance and conservation of Rhizophora mangle
Red mangroves are used as adhesives in the production of plywood. The bark produces a blue dye for dyeing cotton fabrics. It also has medicinal uses, specifically its barks, leafs and roots. They are also carbon sinks, serve as storm barriers and generate high biodiversity. They represent important systems of energy and participate in soil conservation and erosion control (Martinez et al., 2018).
Researchers noted that the region surrounding Rio San Pedro was systematically deforested in the 1970s by a misguided development plan. The area is still threatened by human activities, so researchers stress the need to protect this biologically important area in the future (Hook, 2021). With this study they hope to drag the attention of the government of Tabasco and Mexico's environmental administration to protect this ecosystem. These red mangroves are warning us about the dramatic impact that climate change could have on the coastal plains of the Gulf of Mexico if we do not take urgent action to stop the emission of greenhouse gases.
References Cited
ABURTO, O., BURELO, C., EZCURRA, E., EZCURRA, P., HERNIQUEZ, C., VANDERPLANK, S. and F. ZAPATA
2021
Relict inland mangrove ecosystem reveals Last Interglacial sea levels. Proceedings of the National Academy of Sciences of the United States of America Vol. 118 Num. 41. 8 pages.

https://doi.org/10.1073/PNAS.2024518118
GILLMAN, E., WATSON, D., KLEIN, R., KOESER, A., HILBERT, A. and D. MCLEAN
2016
Rhizophora mangle (red mangrove). Royal Botanic Gardens Kew. pp. 2–4.
HOOK, B.
2021
Hidden Mangrove Forest in the Yucatan Peninsula Reveals Ancient Sea Levels. UC San Diego.
MARTINEZ, J., RAMIREZ, M. and J. CAMARA
2018
Investigaciones Científicas y Agrotecnológicas para la Seguridad Alimentaria.
RIVERA, E., AZUZ, I., CERVANTES, O., ESPINOZA, A., SILVA, R., ORTEGA, A., BOTELLO, A. and B. VEGA
2020
Gobernanza y Manejo de las Costas y Mares ante la Incertidumbre. Una Guia para Tomadores de Decisiones. RICOMAR. 894 pages.
Suggested Reading on Rhizophora mangle
COMISIÓN NACIONAL PARA EL CONOCIMIENTO Y USO DE LA BIODIVERSIDAD -CONABIO-
2013
Rhizophora mangle L. – Rhizophoraceae. CONABIO
CORELLA, F., VALDEZ, J., CETINA, V., GONZALEZ, F., TRINIDAD, A. and J. AGUIRRE
2004
Estructura forestal de un bosque de mangles en el noreste del estado de Tabasco, México. pp. 73-102.
ESTRADA, F.
2011
Indicadores ecológicos de la zona riparia del río San Pedro, Tabasco, México. 131 pages.
LOPEZ, J., HERNANDEZ, H. and C. AGRAZ
2015
Entre Rios y Lagunas. Manglares del Golfo de Mexico.
Suggested website links for Rhizophora mangle
https://vimeo.com/493923605
Video "Memorias del Futuro: El descubrimiento moderno de un ecosistema relicto"
https://colombia.inaturalist.org/taxa/60335-Rhizophora-mangle
Description, distribution and pictures
www.cienciapr.org/es/external-news/raices-del-mangle-rojo-pueden-beneficiar-la-salud
An article on how red mangrove roots could be benefecial por our health
www.sdnhm.org/oceanoasis/fieldguide/rhiz-man-sp.html
Description and habitat
Posted May 26, 2022.
Written by María José Toralla