Accessories are helpful for driving back and forth to base camp
Having been driving in Mexico since 1961 (at age 16) and driving in Guatemala since 1970 I have a tad of experience both on highways and byways. I had my GMC Suburban totally outfitted inside and out to survive tens of thousands of miles.
Now, with our 5-year project in the 21,000+ acres of the RBM, Peten, we have outfitted a capable and comfortable VW Amarok. I spent literally a year asking people in parking lots what brand and model of 4WD double cabin pickup truck they recommended. VW Amarok won for comfort and slightly larger back seat area. Toyota Land Cruiser won for surviving mud roads in the rain forests. But since I do not have that amount of cash available for the Toyota Land Cruiser, I opted for the comfort and ease of driving of the VW Amarok V6 (since 80% of each field trip is over a thousand kilometers on a highway).
So I outfitted this vehicle with:
LED light bar (inside the front)
luggage rack Two power beam lights atop the luggage rack
special Mickey Thompson brand mud tires but that were safe on wet asphalt highways
and inside the vehicle, I had plugs and accessories customized
All of these upgrades were accomplished by MAS ACCESORIOS, a family owned and operated taller mechanico of Alfredo Zuñiga in Guatemala City. We have now utilized his services and experience in outfitting vehicles for the real world for two years. If you have a project anywhere in Peten or any remote area elsewhere, be sure to customized your 4-wheel drive vehicle so you can more comfortably survive driving in remote areas.
Not all 4x4 can actually get through knee-deep mud "roads"
If you are using 4-wheel drive vehicles to get to remote locations for field research, be sure to understand the reality before you and your team and equipment get stuck deep in the mud (even in the "dry season").
I can remember back in the 1970's, I would suggest to visitors not to try to drive from Lake Yaxha between it and Laguna Sacnab to the ruins because in the 1970's the road had not been improved (because no national park existed yet). But all the people told me "no problem Nicholas because we have 4WD..."
90% of them got stuck and could not pull themselves out.
Today you don't need 4x4 to each Yaxha but you need even more to reach Nakum (even in the dry season). And we are finding still today that "merely having a 4x4 does not mean you can reach your destination."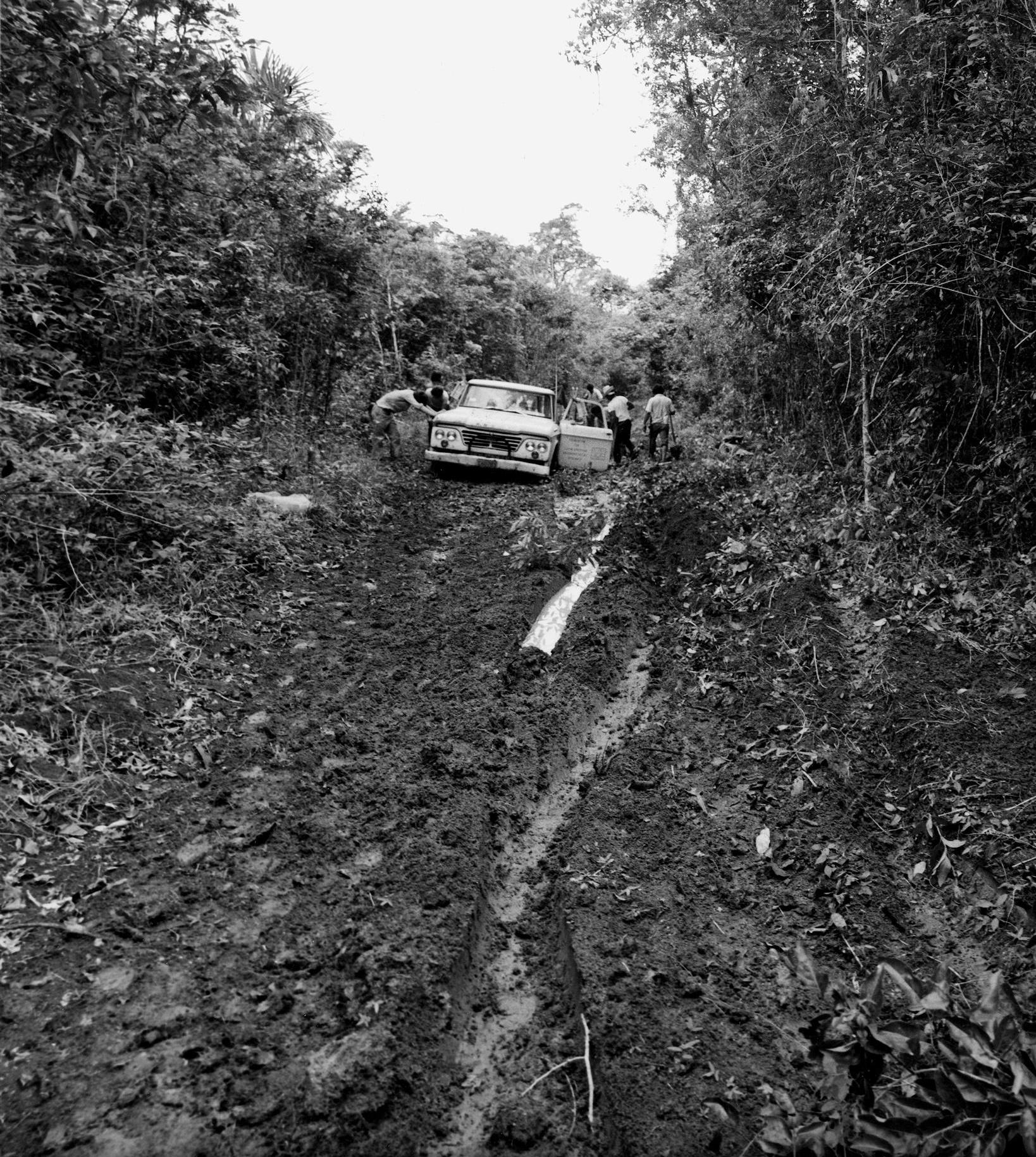 When you work in Peten, Campeche, Quintana Roo, Belize, etc. this is a typical "road" you have to traverse to accomplish your field work. This is a typical "road" though a bajo forest.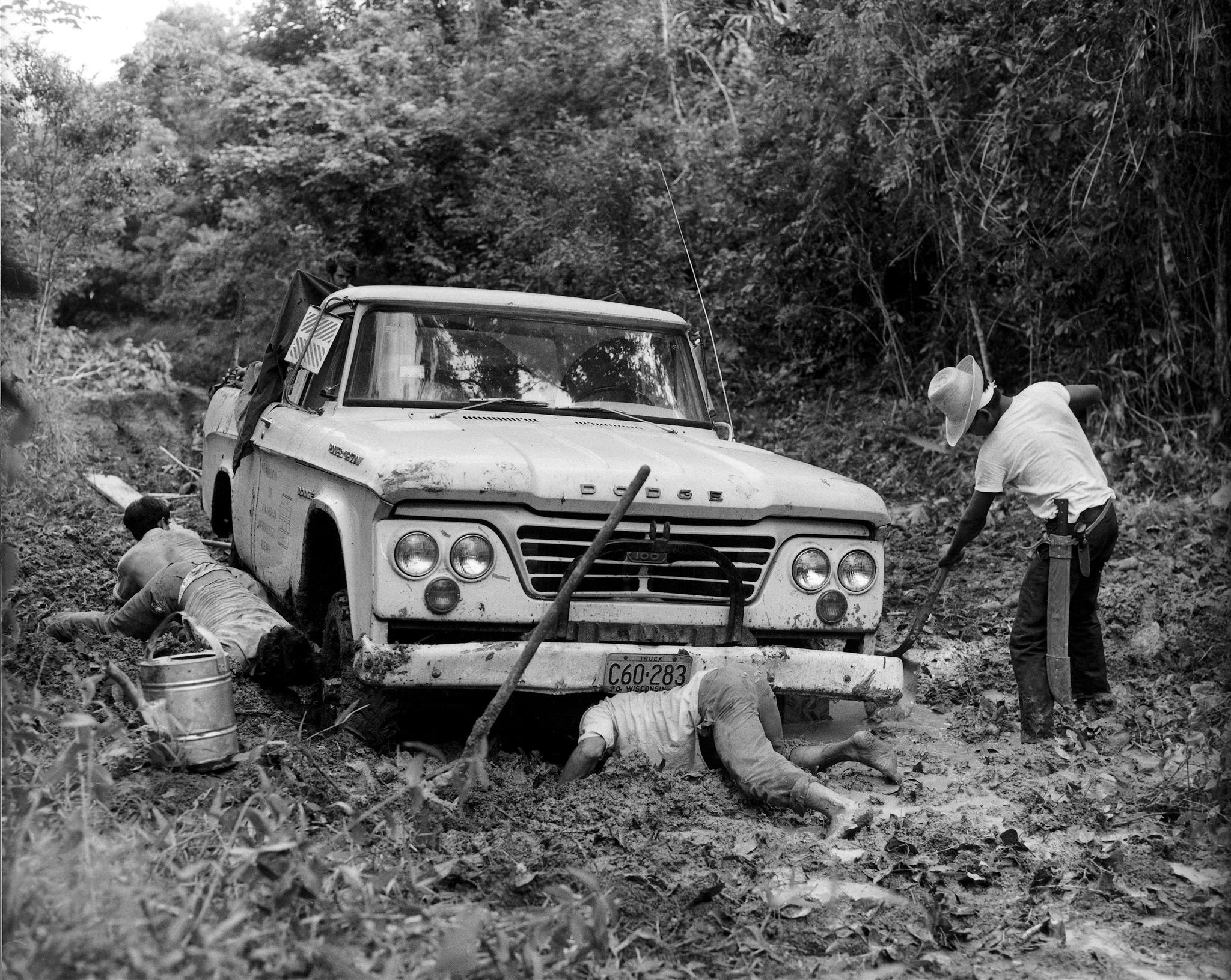 It took two days for the Dodge Power Wagon (1970's) to be "dug out" and then pulled out to return to our base camp.

This is why you need a lifted, customized Toyota Land Cruiser to pass through these roads.
It had rained only one week but the road was impassable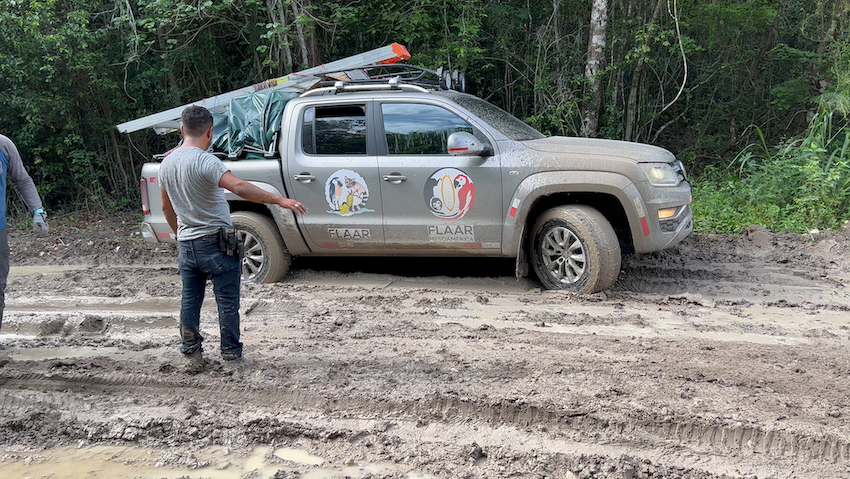 Mud is not even very deep but vehicle has a hard time moving forward.

The green tarp that is protecting our camera equipment, food for the week-long field trip, and other necessary supplies was kindly donated by Sr. Juan Manuel Segovia, Lonas Segovia.
We are outfitted with mud-tires but still have to be pulled out by the Toyota.

This is in Municipio San Jose, where we have found an unexpected biodiversity of lagoons, aguadas, marshes and seasonally inundated grassland savannas, cibales, and tasistal-savannas. We have found so many amazing ecosystems that we will return as soon as a viable 4-wheel drive vehicle is available to our project so we don't get stuck like this.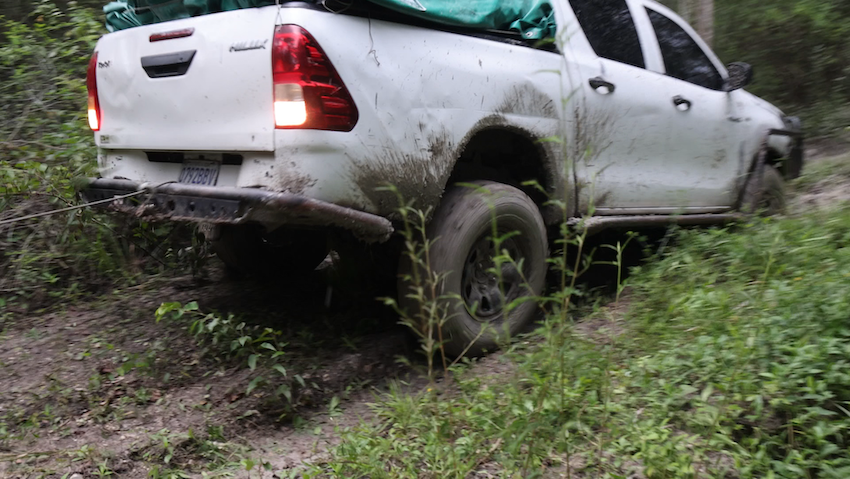 This is the second time it was a Toyota that "saved the day" by having the strength to pull us out. But this Toyota was rented; we do not own one.

All the people who have long-term field projects in Peten say that the Toyota Land Cruiser is even better than the nice HiLux (which is the one here).
Keep in mind, this is the top model of the VW Amarok 4x4; it is only 2 years old and has 4-wheel drive. It has special mud tires as well. So I happily continue to drive it (but no longer on roads with deep ruts filled with water and mud).
Contact Information for MAS ACCESORIOS
Alfredo Zuñiga
PBX 502-2308-2965
WHATSAPP
502-5018-2080
To cover your field trip equipment be sure the tarps you use are high quality
We all love to buy low-bid low-price items. But when on a field trip, this can come back to haunt you. So don't buy "any non-brand tarp" just because they are at all the hardware stores. Best to make an effort to find where you can buy a significantly better brand: Lonas Segovia.
We thank Sr. Juan Manuel Segovia, Lonas Segovia, for coming to our FLAAR Mesoamerica office to donate lonas (tarps, tarpaulin) to cover the back of our pickup truck (to protect everything from rain while driving the 1,200 kilometers each month (600km to remote area and 600 back). Plus a large tarp to cover part of our camping areas.
Tents, even when "rainproof" don't keep rainwater from entering the tent out in the real world. So you need to put a giant tarp over the top of the camping area (attaching the edges and corners to nearby trees).
Recently a severe tornado-like windstorm and fierce rain storm hit our camping area in a remote area of Peten. The wind tore the grommets off the low-bid tarp where we tied the ropes to hold it. But the Lona Segovia tarp material and grommets were so well designed and so strong that it survived the storm (Nicholas was inside his tent, under the other tarp and the wind tore off the entire top of his tent and lifted the whole tent off the ground). So our experience documents that Lona Segovia is a good product.