New heliconia, now identified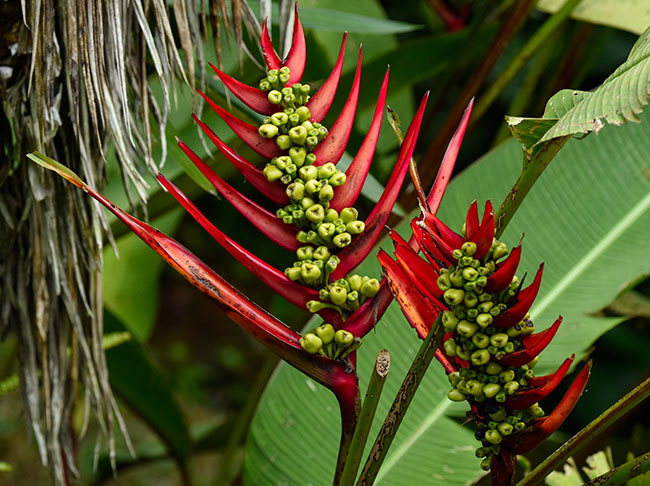 Specimen photographed in Ranchitos del Quetzal, Peten. Photo by Nicholas Hellmuth, Nikon D810 on a Gitzo tripod.
We continue working on improving the lists of Heliconias of Guatemala published by eminent botanists. Not one of these lists is consistent with other lists in other botanical monographs (because the authors were not in each eco-system of Guatemala: we have found two species of wild Heliconia even in the bosque seco parallel to the Rio de los Esclavos).
The Heliconia pictured here is in the impressive garden of Ranchitos del Quetzal, near the Quetzal preserve in Alta Verapaz (directly alongside the main highway towards Coban, CA-14, km 160.5). We photographed this in June and hope to identify its species or variety soon. We also strive to learn whether it is native in nearby areas of Alta Verapaz.
In August Elena Siekavizza was able to identify this as Heliconia adflexa. Then two weeks later Senada Ba spotted the same species up on a hill as we were driving through a remote part of Baja Verapaz. We found out who owned the property and went to ask permission to take photographs; permission was graciously provided.
Heliconia leaves (of other Guatemalan species) are used to wrap tamales. Heliconia leaves of other species are used to thatch Q'eqchi' Mayan houses in remote areas: we have found two houses thatched with platanillo so far.
It is a challenge to identify atypical heliconia plants since the nice monograph Heliconia an Identification Guide (by Fred Berry and W. John Kress, 1991), is almost three decades out of date. And, as typical of all monographs on Heliconia, is not focused on wild heliconia of Guatemala. Most of the popular books on Heliconia are on garden varieties. Our interest is to encourage growing wild species so their wild DNA can continue.
---